© 2019
Constitutional Asymmetry in Multinational Federalism
Managing Multinationalism in Multi-tiered Systems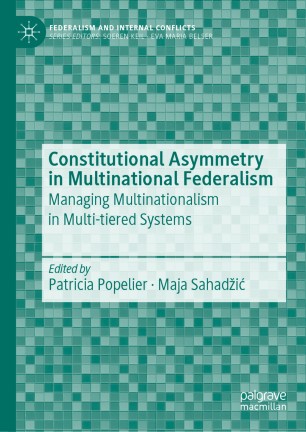 About this book
Introduction
This edited volume examines the link between constitutional asymmetry and multinationalism in multi-tiered systems through a comprehensive and rigorous comparative analysis, covering countries in Europe, Africa and Asia. Constitutional asymmetry means that the component units of a federation do not have equal relationships with each other and with the federal authority. In traditional federal theories, this is considered an anomaly. The degree of symmetry and asymmetry is seen as an indicator of the degree of harmony or conflict within each system. Therefore symmetrisation processes tend to be encouraged to secure the stability of the political system. However, scholars have linked asymmetry with multinational federalism, presenting federalism and asymmetry as forms of ethnical conflict management. This book offers insights into the different types of constitutional asymmetry, the factors that stimulate symmetrisation and asymmetrisation processes, and the ways in which constitutional asymmetry is linked with multinationalism.
Patricia Popelier
is Full Professor at the Faculty of Law, University of Antwerp, Belgium. Her research focuses on federalism and multilevel governance, constitutional review, legislative studies, and issues of legitimacy and legal certainty. She is co-Promoter of the Jean Monnet Centre of Excellence ACTORE, Vice President of the International Association of Legislation, President of the Flemish Interuniversity Centre of Legislation, and Convenor of the standing research group on subnational constitutions in federal and quasi-federal systems of the International Association of Constitutional Law.
Maja Sahadžić is a researcher, lecturer, and expert legal advisor. She currently works as Researcher at the Government and Law Research Group at the Faculty of Law, University of Antwerp, Belgium. Her research focuses on constitutional asymmetry, multinationalism, and multi-tiered systems. She previously held academic positions at universities in Bosnia and Herzegovina, Croatia and the USA, and also worked as a lawyer and journalist. She has published widely in the field of asymmetrical federalism, multinational societies, extreme constitutionalism, diplomacy, and security. In 2018 she received the Ronald Watts Award for the best article in federalism.
Keywords
federalism
constitutional Asymmetry
political asymmetry
subnational entities
symmetrisation processes
multinational conflict management
Dayton Peace Agreement
ethnoterritorial overlap
autonomy
People's Republic of China
federalism in Europe
European Union
nationhood
unitary republic
decentralization
nationalism
constitutionalism
national identity
historical entitlement
political regime
Bibliographic information
Reviews
"Asymmetrical constitutional arrangements in federal and regionalized polities have attracted attention, but systematic research is still underdeveloped. This coherent volume significantly advances research in this field. Based on a common conceptual framework, the articles explain the emergence, persistence and effects of constitutional asymmetries in multinational and multi-tiered political systems. Sound case studies on well selected countries and convincing conclusions, which the editors draw from their comparative analysis, provide valuable new knowledge about an important issue of comparative constitutional law and politics." (Arthur Benz, Institute of Political Science, Technische Universität Darmstadt, Germany)
"Popelier and Sahadžić have assembled an all-star team of established and emerging scholars to reorient the study of federalism. The chapters in this ground-breaking volume show how modern federalism practice has undermined the central presupposition in federalism theory – that sub-units of regional demarcation are formally equal in their powers, privileges, and status in a federal state. What emerges is a challenging and illuminating account of the rebirth of federalism heralding new possibilities for shared governance." (Richard Albert, William Stamps Farish Professor of Law, The University of Texas at Austin, USA)

"The important issue of constitutional asymmetry in multi-level states has been an acknowledged but much understudied aspect of comparative federal studies. This book draws insights from systems in North America, Europe, Asia and Africa to analyse how multinationalism does or does not affect the emergence of constitutional asymmetry. For legal scholars or political scientists with an interest in the causes and mechanisms that drive constitutional asymmetry across a wide range of multi-level states, this book is indispensable reading." (Wilfried Swenden, School of Social and Political Science, University of Edinburgh, UK)