© 2019
Rethinking Democratisation in Spain, Greece and Portugal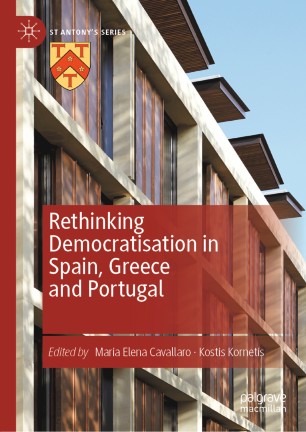 Table of contents
About this book
Introduction
This edited collection explores the ways in which the 2008/2009 social and economic crisis in Southern Europe affected the interpretation of the transitional past in Spain, Greece and Portugal. Discussing topics such as public memory, Europeanism and uses of the past by grassroots movements, the volume showcases how the crisis challenged consolidated perceptions of the transitions as 'success stories'. It revisits the dominant historical narratives around Southern European transitions to democracy more than forty years since the demise of authoritarian regimes, bringing together contributors from history, cultural studies, political science and sociology.
Maria Elena Cavallaro
is Associate Professor of History of International Relations at LUISS Guido Carli University, Rome, Italy, and member of CIHDE (Centro de Investigaciones Históricas de la Democracia Española) in Madrid, Spain. She was Santander Fellow in Iberian Studies at St. Antony's College, Oxford, from 2015 to 2016. She has published extensively on the Iberian Peninsula and the European Integration process and she is now working on the role of the Jenkins and Thorn Commissions in the Mediterranean Enlargement.
Kostis Kornetis is Santander Fellow in Iberian Studies at St Antony's College, Oxford. He previously studied history in Munich, London and Florence and taught at Brown University and New York University. He was Marie Skłodowska Curie Experienced Fellow at the Universidad Carlos III of Madrid, Spain. He has published extensively on the history and memory of social movements in the European South and is currently working on a book manuscript on the generational memory of transitions to democracy in Spain, Greece and Portugal.
Keywords
Europeanism
2008 economic crisis
EEC membership
democratization
mnemohistory
PASOK
PSOE
Euroscepticism
Maastricht treaty
democratic transition
mnemonic groups
authoritarianism
Greek Civil War
Third Greek Republic
protest
25 April Revolution
integration
depoliticization
Cultura de la Transición
memory of the past
Bibliographic information
Reviews
"This volume offers a timely analysis of how the once 'model' transitions to democracy in Southern Europe have been reimagined and reevaluated by the current generation. Bringing together scholars across disciplines and national case studies, the book provides a much-needed transnational perspective on shifting attitudes and 'master frames." (Pamela Radcliff, The University of California, San Diego, USA)
"While it is well known how the questions of Europe and democracy became interlinked in Southern Europe at the time of the regime transitions in the 1970s, these chapters offer a useful comparative perspective on how this perception has played out in domestic politics in light of the 2008 global economic crisis. The book highlights the impact on national party debates and, crucially, shows that integration has remained a sustainable choice in Greece, Spain and Portugal. Recommended read." (Susannah Verney, National and Kapodistrian University of Athens, Greece)
"This excellent book revisits the three pioneers of the third wave of democratic transitions in Southern Europe: Portugal, Greece and Spain. Rethinking the role of public memory, Europeanism and grassroots mobilization, these essays will be central reading for everyone interested in new approaches to democratization." (Antonio Costa Pinto, University of Lisbon, Portugal)