© 2019
Robust Energy Procurement of Large Electricity Consumers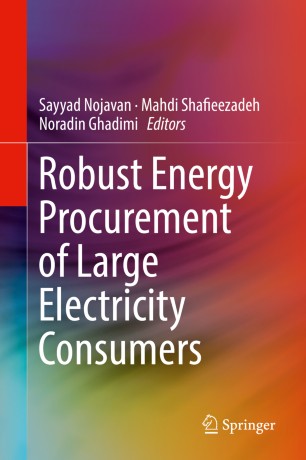 About this book
Introduction
This book identifies the challenges faced by large electricity consumers when they use several sources to procure their energy. The huge penetration of distributed energy resources and the intermittent nature of renewables can put the operations of the large electricity consumer at risk. The book discusses the different types of energy sources including the pool market, bilateral contracts, electrical vehicles, energy storage systems, and demand response programs in detail and presents solutions for robust and risk based scheduling. The author provides models for determining and considering uncertainties and optimal bidding strategies. The book is useful to engineers and students involved in the integration of various energy types as well as those working in state and federal governmental organizations who regulate different aspects of electricity market operation and planning.
Presents solutions for robust and risk based scheduling;

Discusses the operation and planning of energy storage systems;

Presents the most-up-to-date technological approaches to energy integration.
Keywords
Energy procurement
Stochastic programming
Information gap decision theory
Robust optimization approach
Large electricity consumer
Renewable energy sources
Pool markets
Demand response programs
Energy storage systems
distributed energy resources
integration of energy types
Bibliographic information