© 2019
Political Communication in Britain
Campaigning, Media and Polling in the 2017 General Election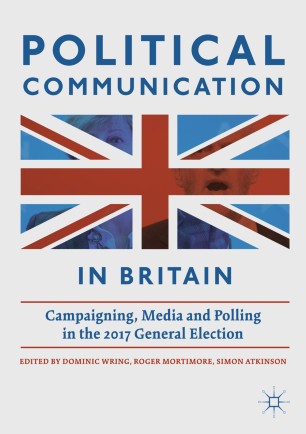 About this book
Introduction
Against prior expectations the 2017 General Election proved to be particularly dramatic, repeatedly stunning commentators from its surprise calling right through to its frenetic conclusion. In seven weeks a hitherto dominant Prime Minister saw her once seemingly unassailable lead in the polls eroded as support for her previously beleaguered rival surged. The subsequent restoration of two-party dominance contributed to the return of a hung parliament with profound consequences for both Theresa May and Jeremy Corbyn. Political Communication in Britain, the tenth volume in a series that began nearly four decades ago, revisits a momentous election by providing unique insights from the vantage point of those who fought, reported and researched a campaign that is likely to live long in the public imagination.
Dominic Wring is Professor of Political Communication at Loughborough University, UK.
Roger Mortimore is Professor of Public Opinion and Political Analysis at King's College London, UK, and Director of Political Analysis at Ipsos MORI.
Simon Atkinson is Chief Knowledge Officer at Ipsos MORI, UK.
Keywords
election
campaigning
polling
reporting
Theresa May
Jeremy Corbyn
press
coverage
process
policy
leaders
journalism
public service broadcasting
BBC
newspapers
agenda-setting
partisanship
digital news
online journalism
messaging
Bibliographic information
Reviews
"This book lifts the lid on the thoughts and decisions of those 'in the know' at the heart of British politics, providing a unique and highly valuable account of the 2017 general election campaign from those closest to its broadcasting and planning, and from observers on the ground. This most fascinating of elections is brought to life in the reflections of some of its key protagonists." (Jane Green, Professorial Fellow and Gwilym Gibbon Senior Research Fellow, Nuffield College, University of Oxford, UK)
"An excellent account of the 2017 election campaign and how the polls and media covered it." (Dennis Kavanagh, Emeritus Professor of Politics, University of Liverpool, UK)

"In 1945 Clement Attlee was driven around the country by his wife to the campaign rallies. That was seventy-three years ago. Political campaigns have come a long way. The book by Wring, Mortimore, Atkinson and contributions from their colleagues have nailed it. Anyone interested in British politics should want to read it." (Sir Robert Worcester KBE DL, Founder of MORI)