© 2019
Exploration and Production of Oceanic Natural Gas Hydrate
Critical Factors for Commercialization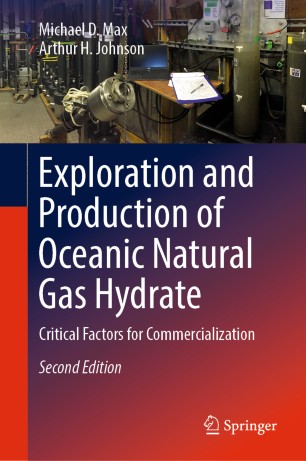 About this book
Introduction
This second edition provides extensive information on the attributes of the Natural Gas Hydrate (NGH) system, highlighting opportunities for the innovative use and modification of existing technologies, as well as new approaches and technologies that have the potential to dramatically lower the cost of NGH exploration and production.
Above all, the book compares the physical, environmental, and commercial aspects of the NGH system with those of other gas resources. It subsequently argues and demonstrates that natural gas can provide the least expensive energy during the transition to, and possibly within, a renewable energy future, and that NGH poses the lowest environmental risk of all gas resources.
Intended as a non-mathematical, descriptive text that should be understandable to non-specialists as well as to engineers concerned with the physical characteristics of NGH reservoirs and their production, the book is written for readers at the university graduate level. It offers a valuable reference guide for environmentalists and the energy community, and includes discussions that will be of great interest to energy industry professionals, legislators, administrators, regulators, and all those concerned with energy options and their respective advantages and disadvantages.
Keywords
Natural Gas Hydrate Exploration
Fossil Fuel and Oceanic Natural Gas Hydrate
Renewable Energy and Oceanic Natural Gas Hydrate
Environmental Risk and Oceanic Natural Gas Hydrates
Deepwater Natural Gas Hydrate and Exploration
Natural Gas and Cost-saving and Innovation
Ultra-deepwater Technology and Natural Gas
Nature Gas Hydrate Production
NHG Resources
Bibliographic information
Reviews
"The authors, experts in the geoscience and engineering of GHs, show that near-future energy needs will rely on a natural gas component to make up for hourly to seasonal production shortfalls in electricity demand. This book should be a handy resource for geoscientists in both government and NGOs, power-generation technologists, policy makers, energy economists, and graduate-level students in ocean energy science. The first five chapters cover the geoscience and economics of GH production; the remaining six cover the operations side of GH production and engineering. This should quickly become the standard reference for GHs." (Tom Klekamp, President of Amber Resources, L.L.C., 39 years of diverse oil industry experience)
"Natural Gas Hydrates have always been considered a fringe science with many parallels to fusion power. They are both known to be technically possible but are always 30 years away. By providing decades of knowledge and understanding of the entire energy landscape, from the geologic formation to the light switch of the end user, the authors formulate a cogent and practical argument for Natural Gas Hydrates becoming a significant component of the not too distant energy future. Their detailed account of the horizontal drilling and fracking revolution and its far ranging and ongoing impact on the world economy shows how NGH may be poised to be the next evolution of fossil fuel production . . . for better or for worse from a climate perspective. In the age of bookmarks this book provides a valuable and handy guide to many of the questions the informed reader may have on the modern energy economy." (Christopher Carstens is a Berkeley and Singularity University trained inventor and entrepreneur with more 15 years of experience in the conventional and renewable energy space)