© 2014
Medical Informatics, e-Health
Fundamentals and Applications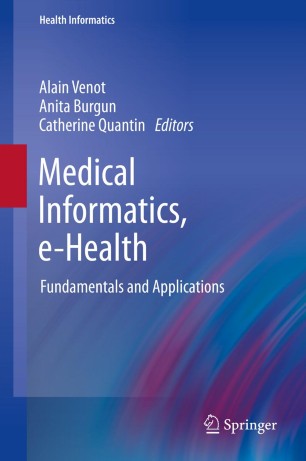 About this book
Introduction
Over the years, medical informatics has matured into a true scientific discipline. Fundamental and applied aspects are now taught in various fields of health, including medicine, dentistry, pharmacy, nursing and public health. Medical informatics is also often included in the curricula of many other disciplines, including the life sciences, engineering and economics.
Medical informatics is a complex and rapidly changing discipline. Relatively few books have been published on the subject, and they rapidly become obsolete. This book is the fruit of a collaborative effort between authors teaching medical informatics in France and others who are conducting research in this field. In addition, an international perspective was pursued, as reflected in the inclusion of various developments and actions in both the USA and Europe.
This book is divided into 18 chapters, all of which include learning objectives, recommendations for further reading, exercises and bibliographic references.
Keywords
Biomedical informatics
Decision making
E-Health
Electronic Medical Record
Health informatics
Bibliographic information