© 2010
Research and Development in Intelligent Systems XXVI
Incorporating Applications and Innovations in Intelligent Systems XVII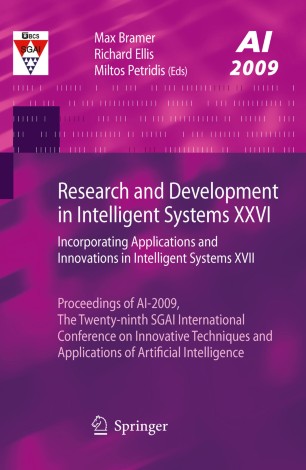 Table of contents
About these proceedings
Introduction
RESEARCH AND DEVELOPMENT IN INTELLIGENT SYSTEMS XXVI
INCORPORATING APPLICATIONS AND INNOVATIONS IN INTELLIGENT SYSTEMS XVII
The papers in this volume are the refereed papers presented at AI-2009, the Twenty-ninth SGAI International Conference on Innovative Techniques and Applications of Artificial Intelligence, held in Cambridge in December 2009 in both the technical and the application streams.
They present new and innovative developments and applications, divided into technical stream sections on Knowledge Discovery and Data Mining, Reasoning, Data Mining and Machine Learning, Optimisation and Planning, and Knowledge Acquisition and Evolutionary Computation, followed by application stream sections on AI and Design, Commercial Applications of AI and Further AI Applications. The volume also includes the text of short papers presented as posters at the conference.
This is the twenty-sixth volume in the Research and Development in Intelligent Systems series, which also incorporates the seventeenth volume in the Applications and Innovations in Intelligent Systems series. These series are essential reading for those who wish to keep up to date with developments in this important field.
Keywords
Data Mining
Extension
Kernel
Knowledge Discovery
Optimisation and Planning
artificial intelligence
cognition
fuzzy logic
genetic algorithms
knowledge
learning
machine learning
natural language
reinforcement learning
robot
Bibliographic information
Book Title

Research and Development in Intelligent Systems XXVI

Book Subtitle

Incorporating Applications and Innovations in Intelligent Systems XVII

Editors

Richard Ellis
Miltos Petridis


DOI

https://doi.org/10.1007/978-1-84882-983-1

Copyright Information

Springer-Verlag London

2010

Publisher Name

Springer, London

eBook Packages

Computer Science Computer Science (R0)

Softcover ISBN

978-1-84882-982-4

eBook ISBN

978-1-84882-983-1

Edition Number

1

Number of Pages

XVI, 504

Number of Illustrations

0 b/w illustrations, 0 illustrations in colour

Topics

Artificial Intelligence

Reviews
From the reviews: "Papers and posters presented at the 29th SGAI International Conference on Innovative Techniques and Applications of Artificial Intelligence … are collected in this book. It presents a wide range of research topics. … Most of the papers have a quite formal approach. … They are all presented to professionals in AI, so the book should appeal to AI scholars and practitioners." (G. Gini, ACM Computing Reviews, April, 2010)