© 2009
Guide to Wireless Sensor Networks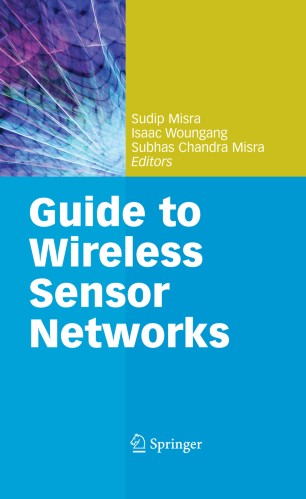 Table of contents
About this book
Introduction
Wireless communication technologies continue to undergo rapid advancement. In recent years, there has been a steep growth in research in the area of wireless sensor networks (WSNs).
In WSNs, communication takes place with the help of spatially distributed, autonomous sensor nodes equipped to sense specific information. WSNs can be found in a variety of both military and civilian applications worldwide. Examples include detecting enemy intrusion on the battlefield, object tracking, habitat monitoring, patient monitoring and fire detection. Sensor networks are emerging as an attractive technology with great promise for the future. However, challenges remain to be addressed in issues relating to coverage and deployment, scalability, quality-of-service, size, computational power, energy efficiency and security.
This highly useful Guide to Wireless Sensor Networks presents a comprehensive account of the fundamental concepts, new ideas and results in the field of WSNs. Offering a wide coverage of subjects, from core issues to specialized topics, this reader-friendly book provides a valuable reference for academics and practitioners alike. With its helpful teaching tools, it is also an ideal textbook for graduate students wishing to learn more about the topic.
Features:
• Provides an accessible, comprehensive overview of the state-of-the-art technology of wireless sensor networks
• Offers a set of questions at the end of each chapter to help readers assess their understanding of the various concepts
• Includes reader-friendly discussions for practitioners, directions for future research, helpful lists of terms and definitions
• Designed, in structure and content, to aid the learning process with the intention of making the book useful at all learning levels
• Presents insight into the practical significance of these topics in real-world scenarios
• Supplies supportive presentation PowerPoint slides and solutions to aid lecturers at www.springer.com/978-1-84882-217-7
Prof. Sudip Misra is a renowned expert in the field of computer networks and is currently working for the School of Information Technology at the Indian Institute of Technology Kharagpur. With contributions by some of the most prominent researchers in the field today, this book will be an invaluable source of reference for researchers and practitioners in the field of computer networking. Its pedagogical aids further extend its utility in academia.
Key Topics:
• Energy Efficiency
• Routing
• Transport Control
• Fault-tolerance
• Quality of Service
• Scheduling
• Security
Keywords
Quality of Service
Quality of Service (QoS)
Routing
communication
information
wireless sensor network
wireless sensor networks
Bibliographic information
Reviews
From the reviews: "This useful book dedicated to wireless sensor networks is the editor's follow up to their recent guide to wireless and ad hoc networks … . The book presents general and specialized aspects of sensor networks … . This book is a useful introduction to the emergent topic of sensor networks. Its target audience is students at intermediate and advanced levels. Teachers can obtain from the publisher presentation slides for classroom use and a manual with answers to the questions included in each chapter." (Alessandro Berni, ACM Computing Reviews, January, 2010)