© 2009
Guide to Wireless Ad Hoc Networks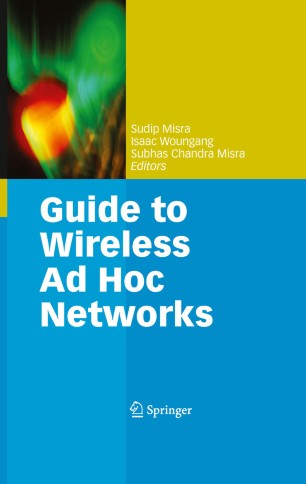 Table of contents
About this book
Introduction
Wireless ad-hoc network communication technologies have experienced a steep growth in research and significant advancements in recent times due to their important advantages. These benefits help to set-up a network fast in situations where there is no existing network set-up, or when setting up a fixed infrastructure network is considered infeasible. However, there are challenges that still need to be addressed.
This indispensable guidebook provides a comprehensive resource on the new ideas and results in the areas of mobile ad-hoc networks and other ad-hoc computing systems in the wireless communication technology field. Wireless ad-hoc networks are explored by leading experts in the field from both academia and industry, with discussions on various challenges in varied environments, standards, routing mechanisms, etc. This reader-friendly, broad-ranging text features in-depth descriptions of terminologies and concepts related to the diverse subject areas germane to wireless ad hoc communication.
Features:
• Provides an accessible, comprehensive overview of the state-of-the-art technology of wireless ad-hoc networks
• Includes reader-friendly discussions for practitioners, directions for future research, and helpful lists of terms and definitions
• Offers a set of summary questions at the end of each chapter to help readers assess their understanding of the various concepts
• Presents insight into the practical significance of these topics in real-world scenarios
• Designed, in structure and content, to aid the learning process with the intention of making the book useful at all learning levels
• Supplies supportive PowerPoint presentation slides and solutions to aid lecturers at www.springer.com/978-1-84800-327-9
This wide-ranging and highly useful guide will be a valuable reference/text in the field for researchers, engineers and strategists needing to know about this technology. It is also an ideal textbook for graduate students wishing to learn more about the topic.
Key Topics:
• Routing
• Mobility Management
• Quality of Service Support
• Congestion Control
• Security
• Trust Management
Keywords
Mobile ad hoc networks
Mobility management
Multihop wireless networks
Routing
Security and trust
Self-organization
Vehicular ad hoc networks
trust management
wireless ad-hoc network
Bibliographic information
Reviews
From the reviews: "This book delivers a useful addition to the already rich body of knowledge on wireless ad hoc networks. … targets mainly the student community. … Sections on future research and 'thoughts for practitioners' provided in each chapter make the book an interesting read for those who work in the research community, as well. … the editor's have tackled the breadth versus depth dilemma in a balanced manner, making this book a useful reference for students, instructors, and practitioners alike." (Alessandro Berni, ACM Computing Reviews, December, 2009)