© 2008
Knowledge Cartography
Software Tools and Mapping Techniques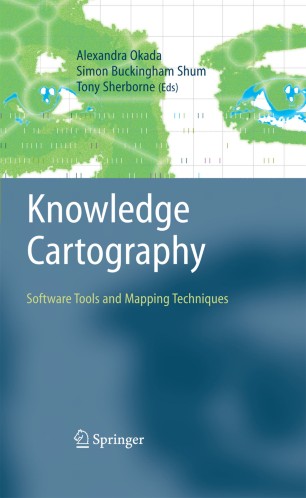 About this book
Introduction
Knowledge Cartography is the discipline of mapping intellectual landscapes. The focus of this book is on the process by which manually crafting interactive, hypertextual maps clarifies one's own understanding, as well as communicating it.
The authors see mapping software as a set of visual tools for reading and writing in a networked age. In an information ocean, the primary challenge is to find meaningful patterns around which we can weave plausible narratives. Maps of concepts, discussions and arguments make the connections between ideas tangible and disputable.
With 17 chapters from the leading researchers and practitioners, the reader will find the current state–of-the-art in the field. Part 1 focuses on educational applications in schools and universities, before Part 2 turns to applications in professional communities, but with many cross-cutting themes:
conceptual frameworks for understanding knowledge cartography
visual languages, many of which work on both paper and with software
specialist software, much of it freely available and open source
case studies reflecting on successes and failures
ways in which maps can be used both effectively and ineffectively
examples of how to evaluate maps
visit the website for updates on the field, and extra resources for each chapter:
www.kmi.open.ac.uk/books/knowledge-cartography
Knowledge Cartography will be of interest to learners, educators, and researchers in all disciplines, as well as policy analysts, scenario planners, knowledge managers and team facilitators. Practitioners will find new perspectives and tools to expand their repertoire, while researchers will find rich enough conceptual grounding for further scholarship.
Keywords
Cognitive learning
Collaborative Learning
Information analysis
Internet
Knowledge mapping techniques
Knowledge mapping tools
Open Source
Scaffolding
Web
cartography
knowledge management
learning
organization
visualization
Bibliographic information
Reviews
From the reviews:
"This book attempts to describe the state of the art in the field … . Given the academic and research-oriented focus and style of this book, it will be of most interest to researchers in knowledge cartography and students who desire a research-focused survey of the field. Professional practitioners of knowledge mapping … who wish to use knowledge maps for pedagogical purposes, should also find this book helpful for increasing their repertoires of techniques and deepening their skills." (ACM Computing Reviews, May, 2009)