© 2008
Handbook of Performability Engineering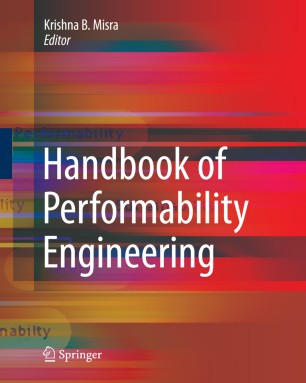 Table of contents
About this book
Introduction
Performability engineering provides us with the framework to consider both dependability and sustainability for the optimal design of products, systems or services. Whereas dependability is an aggregate of one or more of the attributes of survivability (such as quality, reliability, and maintainability etc.) and safety, and the present designs based on dependability and life cycle costs cannot be really called truly optimal since these attributes are strongly influenced by the design, raw materials, fabrication, techniques and manufacturing processes employed, and their control and usage. Therefore, sustainability, characterized by dematerilization, energy and waste minimization, disposability, reuse and recycling and other the environmental considerations which help in clean production, must be considered along with dependability. Design of 21st Century products, systems and services must conform to performability designs. More so when world resources are on the decline and to keep pace with rising population, the increased volume of production is bound to affect the world's environmental health further.
As of now, dependability and cost effectiveness are primarily seen as instruments for conducting the international trade in the free market environment and thereby deciding the economic prosperity of a nation. However, the internalization of the hidden costs of environment preservation will have to be accounted for, sooner or later, in order to be able to produce sustainable products and systems in the long run. These factors cannot be ignored any more and must not be considered in isolation of each other.
The Handbook of Performability Engineering considers all aspects of performability engineering, providing a holistic view of the entire life cycle of activities of the product, along with the associated cost of environmental preservation at each stage, while maximizing the performance.
Keywords
Lean
Marketing
Norm
RAM
Service
Six Sigma
Software
communication
electronics
microelectromechanical system (MEMS)
modeling
optimization
product design
quality
system analysis
Bibliographic information
Reviews
From the reviews:
The 100 international contributors to this book's 76 chapters provide depth and considerable diversity to the subject... Each chapter can be read independently and includes careful definitions and reviews of major topics and good descriptions of main methods... The editor's philosophy is to provide all engineers "with a wider vision of the requirement of sustainable and dependable products, systems, and services in the 21st century." This book provides a guide and reference for many of the engineering tools needed to accomplish this... Recommended.
Choice (August 2009) (Reviewer: S. A. Batterman, University of Michigan)
"The reader has a veritable garden from which to feast from this impressive collection of chapters."
Dr William Vesely,
Manager, Risk Assessment, Office of Safety and Mission Assurance, NASA
"Clearly covers the entire canvas of performability: quality, reliability, maintainability, safety and sustainability."
Way Kuo,
Editor-in-Chief, IEEE Transactions on Reliability
President, City University of Hong Kong
Formally Dean of Engineering and University Distinguished Professor, University of Tennessee
"The book should be of interest for reliability researchers or instructors that need some additional material--such as examples or new trends--for intensive courses given in reliability engineering. … the technical content is impressive and the vast diversity of areas covered can be perceived as its greatest advantage; it enables, for instance, networking reliability experts to get acquainted with the mechanics of software reliability, which can be quite inspiring." (Piotr Cholda, ACM Computing Reviews, March, 2009)