© 2008
Advanced Methods for Inconsistent Knowledge Management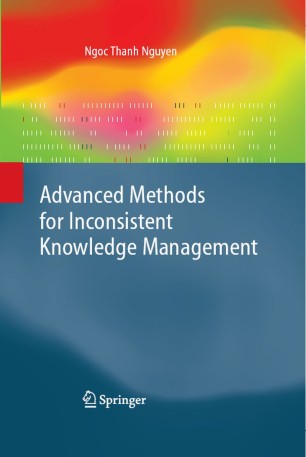 About this book
Introduction
Inconsistent knowledge management is a common sub-field of knowledge management and conflict resolution. It deals with methods for reconciling inconsistent contents of knowledge originating from different sources. This book presents a unified and systematic description of a wide class of miscellaneous problems of inconsistent knowledge management, analyzed by traditional mathematical methods using relational and logical representations. With special emphasis on the distribution aspect of knowledge inconsistency, Professor Nguyen provides a unique approach to formal models of inconsistency and algorithms for its resolution.
Features & topics include:
• Consensus as a tool for conflict solving
• Inconsistency of knowledge – syntactic & semantic
• Knowledge conflict model
• Ontology Integration
• Practical aspects of applications of proposed methods
This book provides a broad snapshot of intelligent technologies for inconsistency resolution and offers an invaluable source of reference on the topic. Written for researchers and students in the field of knowledge management, conflict solution and intelligent systems, this book will also be of use to designers of multi-agent and information systems and specialists from social choice theory, and all interested in the problems of processing and managing inconsistent knowledge.
Keywords
Conflict Resolution
Consensus Methods
Inconsistent Knowledge
Ontology
information retrieval
knowledge management
learning
management
Bibliographic information
Reviews
From the reviews:
"The author summarizes most of his research, and the other research that has been done concerning how to resolve the aforementioned inconsistencies, when they refer to the same object or phenomenon in the real world. … It is written in an accessible, pedagogical manner, and thus will be quite useful, not only for specialists, but also for advanced or postgraduate students in computer science, particularly those interested in the development of artificial intelligence and its practical applications. I highly recommend this book." (Arturo Ortiz-Tapia, Computing Reviews, Vol. 50 (1), January, 2009)