© 2007
Process Planning and Scheduling for Distributed Manufacturing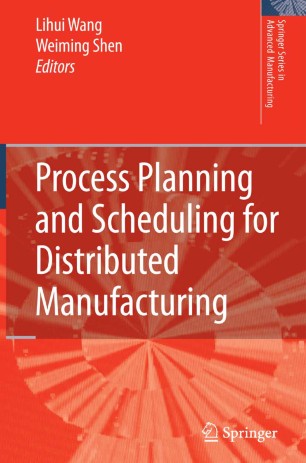 About this book
Introduction
The process planning and scheduling issues of intelligent and distributed manufacturing are crucial nowadays due to the need for enterprises to be adaptive, re-configurable, collaborative and flexible enough to support the emergence of worldwide competition and dynamic and mass-customised markets. With this increasing dynamism of decentralised manufacturing systems and processes, more effective and efficient decision-making techniques are needed.
Process Planning and Scheduling for Distributed Manufacturing focuses on emerging technologies for distributed intelligent decision-making in process planning and dynamic scheduling. As a collection of chapters on state-of-the-art researches in this area, this book presents a review of several key research areas in process planning and scheduling (e.g., adaptive process planning, dynamic scheduling, and process planning and scheduling integration), and provides an in-depth treatment of particular techniques, from function block enabled process planning to agent-based resource scheduling. Each chapter addresses a specific problem domain and offers practical solutions to solve the problem.
Given the essential role manufacturing plays in the economic development of all industrial nations, Process Planning and Scheduling for Distributed Manufacturing will be of interest to academic researchers, practising engineers and graduate students for whom it will provide a better understanding of the present state and future trends of research in this important area.
Keywords
Manufacturing
Manufacturing System
Trend
artificial intelligence
computer-aided design (CAD)
computer-integrated manufacturing (CIM)
control
data mining
design
machining
maintenance
modeling
optimal control
production
scheduling
Bibliographic information