© 2006
Advanced Fuzzy Logic Technologies in Industrial Applications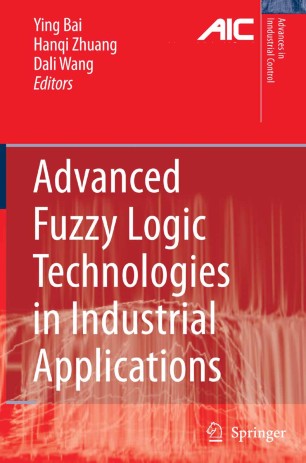 Table of contents
About this book
Introduction
The ability of fuzzy systems to provide shades of gray between "on or off" and "yes or no" is ideally suited to many of today's complex industrial control systems. The static fuzzy systems usually discussed in this context fail to take account of inputs outside a pre-set range and their off-line nature makes tuning complicated.
Advanced Fuzzy Logic Technologies in Industrial Applications addresses the problem by introducing a dynamic, on-line fuzzy inference system. In this system membership functions and control rules are not determined until the system is applied and each output of its lookup table is calculated based on current inputs.
The tuning process is a major focus in this volume because it is the most difficult stage in fuzzy control application. Using new methods such as µ-law technique, histogram equalization and the Bezier-based method, all detailed here, the tuning process can be significantly simplified and control performance improved.
The other great strength of this book lies in the range and contemporaneity of its applications and examples which include: laser tracking and control; robot calibration; image processing and pattern recognition; medical engineering; audio systems; autonomous underwater vehicles and data mining.
Advanced Fuzzy Logic Technologies in Industrial Applications is written to be easily understood by readers not having specialized knowledge of fuzzy logic and intelligent control. Design and application engineers and project managers working in control, as well as researchers and graduate students in the discipline will find much to interest them in this work.
Advances in Industrial Control aims to report and encourage the transfer of technology in control engineering. The rapid development of control technology has an impact on all areas of the control discipline. The series offers an opportunity for researchers to present an extended exposition of new work in all aspects of industrial control.
Keywords
Performance
Tracking
autonom
data mining
fuzzy
fuzzy controller
fuzzy logic
fuzzy systems
image processing
mobile robot
navigation
robot
unmanned aerial vehicle
Bibliographic information
Reviews
From the reviews:
"The book is organized as follows. The first four chapters 'introduce' fuzzy controllers … . The remainder of the text covers applications, including noise suppression in laser tracking, medical engineering, flight control, and data mining. … For a reader desiring a collection on advanced industrial FST applications, this text is adequate. The examples are fresh and fairly broad. Few readers outside this group will find this book useful. … the reader is encouraged to investigate fuzzy methodology." (J. Douglas Barrett, Technometrics, Vol. 49 (4), 2007)
"This volume provides a systematic review of recent fuzzy-logic control applications. … the volume has a healthy proportion of chapters with results from practical implementations of fuzzy-logic control. … will be of considerable interest to all those involved in the development and application of the fuzzy-logic controller field. Industrial engineers and academic researchers should find the volume a useful indicator of the maturity of the fuzzy-logic controller paradigm and a valuable resource for exploring the potential of these controllers for industrial applications." (George S. Stavrakakis, Vol. 1135 (13), 2008)