© 2016
Spatio-Temporal Data Streams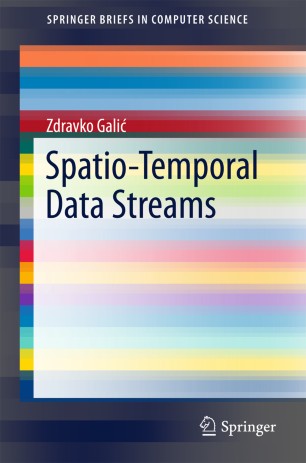 About this book
Introduction
This SpringerBrief presents the fundamental concepts of a specialized class of data stream, spatio-temporal data streams, and demonstrates their distributed processing using Big Data frameworks and platforms. It explores a consistent framework which facilitates a thorough understanding of all different facets of the technology, from basic definitions to state-of-the-art techniques. Key topics include spatio-temporal continuous queries, distributed stream processing, SQL-like language embedding, and trajectory stream clustering.
Over the course of the book, the reader will become familiar with spatio-temporal data streams management and data flow processing, which enables the analysis of huge volumes of location-aware continuous data streams. Applications range from mobile object tracking and real-time intelligent transportation systems to traffic monitoring and complex event processing.
Spatio-Temporal Data Streams is a valuable resource for researchers studying spatio-temporal data streams and Big Data analytics, as well as data engineers and data scientists solving data management and analytics problems associated with this class of data.
Keywords
Spatio-temporal
Data streams
Geostreaming
Big spatial data
Distributed processing
Complex event processing
Streaming analytics
Cluster computing
Real-time analytics
Data flow processing
Geographic information systems
Bibliographic information