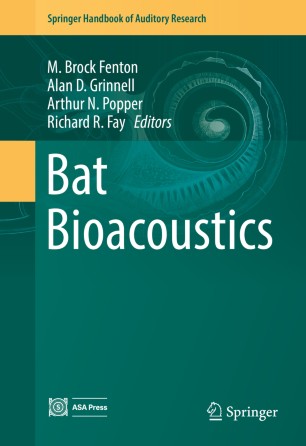 Table of contents
About this book
Introduction
In Bat Bioacoustics we briefly review the history of biosonar and echolocation (reminding readers of the 1995 Hearing by Bats). Adaptations for biosonar make one of the most fascinating stories in neuroethology. The auditory systems, biosonar signals, and their central role in the biology of bats are front and center in this story. Echolocation by bats has proven to be a virtual gold mine for colleagues studying neurobiology, while providing many rich examples of its impact on other areas of bats' lives. This volume is aimed at graduate students and postdoctoral investigators, as well as professionals and academics. It is intended to function as a high-profile and up-to-date reference work on bat bioacoustics.
· A History of the Study of Echolocation by Alan D. Grinnell, Edwin Gould, and M. Brock Fenton
· Phylogeny, Genes, and Hearing – Implications for the Evolution of Echolocation in Bats by Emma C. Teeling, Gareth Jones, and Stephen J. Rossiter
· Ultrasound Production, Emission, and Reception by Walter Metzner and Rolf Mueller
· To Scream or to Listen? Prey Detection and Discrimination in Animal-Eating Bats by Patricia L. Jones, Rachel A. Page, and John M. Ratcliffe
·
Roles of Acoustic Social Communication in the Lives of Bats
by Erin Gillam and M. Brock Fenton
· Guild Structure and Niche Differentiation in Echolocating Bats by Annette Denzinger, Elisabeth K. V. Kalko†, Marco Tschapka, Alan D. Grinnell, and Hans-Ulrich Schnitzler
·
Neural Coding of Signal Duration and Complex Acoustic Objects
by Paul A. Faure and Uwe Firzlaff
· The Neural Processing of Frequency Modulations in the Auditory System of Bats by George D. Pollak
· Behavioral and Physiological Bases for Doppler Shift Compensation by Echolocating Bats by Shizuko Hiryu, Emanuel C. Mora, and Hiroshi Riquimaroux
· Perceiving the World Through Echolocation and Vision by Annemarie Surlykke, James A. Simmons, and Cynthia F. Moss
·
Perspectives and Challenges for Future Research in Bat Hearing
by Lutz Wiegrebe, Alan D. Grinnell, and M. Brock Fenton
About the Editors:
M. Brock Fenton is Professor Emeritus in the Department of Biology at Western University.
Alan D. Grinnell is Distinguished Professor of Integrative Biology and Physiology at the University of California, Los Angeles
Arthur N. Popper is Professor Emeritus and Research Professor in the Department of Biology at the University of Maryland, College Park.
Richard R. Fay is Distinguished Research Professor of Psychology at Loyola University Chicago.
About the Series:
The Springer Handbook of Auditory Research presents a series of synthetic reviews of fundamental topics dealing with auditory systems. Each volume is independent and authoritative; taken as a set, this series is the definitive resource in the field
Keywords
Bats
Echolocation
FoxP2
acoustic
biosonar
vocalization
Bibliographic information
DOI

https://doi.org/10.1007/978-1-4939-3527-7

Copyright Information

Springer Science+Business Media New York 2016

Publisher Name

Springer, New York, NY

eBook Packages

Biomedical and Life Sciences Biomedical and Life Sciences (R0)

Print ISBN

978-1-4939-3525-3

Online ISBN

978-1-4939-3527-7

Series Print ISSN

0947-2657

Series Online ISSN

2197-1897
Industry Sectors