© 1995
Code Division Multiple Access Communications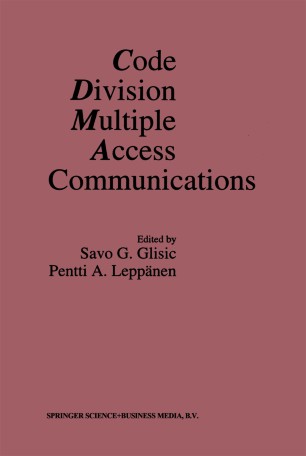 Table of contents
About this book
Introduction
Code Division Multiple Access (CDMA) has become one of the main candidates for the next generation of mobile land and satellite communication systems. CDMA is based on spread spectrum techniques, which have been used in military applications for over half a century. Only recently, however, has it been recognised that spread spectrum techniques, combined with some additional steps, can provide higher capacity and better flexibility for the mobile cellular radio communications.
Code Division Multiple Access Communications comprises a set of contributions from the most distinguished world scientists in the field. These papers review the basic theory and some of the most important problems related to spread spectrum and CDMA. The topics covered centre on the information theory aspects of CDMA; interference suppression and performance analysis.
The material presented in this book summarises the main problems in modern CDMA theory and practice and gives a solid starting point for studying this complex and still challenging field. As such Code Division Multiple Access Communications is essential reading for all researchers and designers working in mobile communication systems and provides an excellent text for a course on the subject.

Keywords
Modulation
Overlay
Standard
code
coding
communication
filter
filtering
information
information theory
Bibliographic information