© 2013
Causes, Impacts and Solutions to Global Warming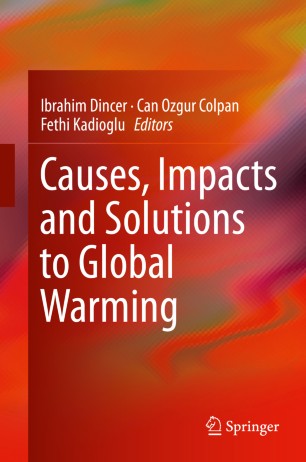 About this book
Introduction
This book covers all aspects of global warming including its causes, impacts, and engineering solutions. This book also focuses on energy management and conservation strategies for better utilization of energy sources and technologies in various sectors, ranging from industrial to residential as well as transportation. It provides ways of improving energy efficiency at the end use. In order to reduce the negative effects of global warming due to excessive use of fossil fuel technologies, the following alternative technologies are introduced from the engineering perspective: fuel cells, solar power generation technologies, energy recovery technologies, hydrogen energy technologies, wind energy technologies, geothermal energy technologies, and biomass energy technologies. These technologies are presented in detail with novel ideas, modeling studies, systems development, case studies, illustrative examples, pilot and large-scale applications, and many more as what makes this book a unique and special one.
This book also:
Covers all the aspects of global warming from its causes and impacts, to engineering solutions
Presents green technologies in detail, including case studies
Discusses energy and environment policies and strategies to reduce the effects of global warming
Offers substantial views and assessment criteria and parameters for sustainable development
Brings us some potential life cycle assessment tools for cradle to grave type analyses
Uses exergy analysis as a key methodological tool for system design, analysis, assessment and improvement
Causes, Impacts and Solutions to Global Warming is an ideal book for students, lecturers, researchers, scientists, engineers, and policy makers interested in more in-depth information on global warming.
Keywords
Atmospheric Change
Climate Change Impact
Environment Policies
Environmental Science and Technology
Green Energy
Kyoto Protocol
New Energy Technologies
Sea-level Rise
Sustainability of Energy Systems
Bibliographic information