Science and Conservation in the Galapagos Islands
Frameworks & Perspectives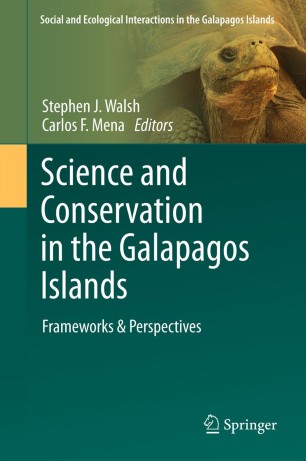 About this book
Introduction
The recent passing of "Lonesome George," the last remaining Giant Tortoise from Pinta Island in the Galapagos Archipelago of Ecuador, marks a sad farewell to yet another species from Planet Earth. The vulnerability of island ecosystems is particularly striking, especially given the expanding human imprint in many of these fragile settings and the corresponding risk of accelerated human development on native and endemic flora and fauna, many of which are iconic or emblematic species used to identify special places, like the Galapagos Islands, an internationally renowned Protected Area and a UNESCO World Heritage Site.
In this volume, and the books to come as part of this Galapagos Series, we explore scientific approaches and conservation perspectives to address the challenges of social-ecological sustainability in island ecosystems, with a special emphasis on the social, terrestrial, and marine sub-systems of the Galapagos and their integrated and linked effects. In this initial volume, we include chapters from scientists, managers, and conservationists that explore contexts and explanations of historical, contemporary, and alternative futures for the Galapagos Islands to set the stage for more focused books in the Series on topics ranging from evolution, history of scientific engagement in the Galapagos, tourism and population migration, and marine ecology of the Galapagos Marine Reserve.
While this book launches the Galapagos Book Series, it also offers a broad and exploratory statement of threats to the Galapagos Islands, such as invasive species and the direct and indirect impacts of human migration, as motivation for subsequent studies and books to benefit science and society in the Galapagos Islands, also with the goal of creating a global template to examine other similarly challenged island ecosystems around the world.
Bibliographic information
DOI

https://doi.org/10.1007/978-1-4614-5794-7

Copyright Information

Springer Science+Business Media, LLC 2013

Publisher Name

Springer, New York, NY

Print ISBN

978-1-4614-5793-0

Online ISBN

978-1-4614-5794-7

Series Print ISSN

2195-1055

Series Online ISSN

2195-1063