© 2013
School Shootings
International Research, Case Studies, and Concepts for Prevention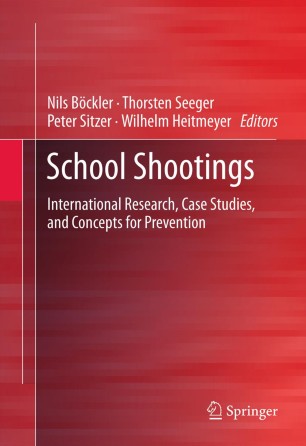 Table of contents
About this book
Introduction
The expert research of School Shootings: International Research, Case Studies, and Concepts for Prevention goes beyond simple "violent teen culture creates violent students" constructs to present current theories and findings, a diverse range of case studies, and examples of successful prevention programs. (Instructive cases that fall outside the general template, such as an early female shooter and a Samurai sword attack, are also included for additional insights.) Contributors from a variety of disciplines thoughtfully explore the role of media in conceptualizing school shootings and shooters for the public, the social nuances of "cool kids" versus outsiders, and the construction of male socialization for multifaceted coverage of this growing phenomenon. Among the featured topics:
The relevance of fantasy in school shootings.
Thirty-five school shootings: trends, patterns, typology.
Legitimated adolescent violence: lessons from Columbine.
School shooters and their followers on the Web.
The Virginia Student Threat Assessment Guidelines: a science-based prevention strategy.
School-level crisis management when a shooting incident occurs.
A groundbreaking work that opens up possibilities for future studies and interdisciplinary and cross-cultural collaboration, School Shootings is imperative reading for researchers in criminology and criminal justice, especially with an interest in lifecourse studies and violence prevention/intervention. It will also be of considerable interest to researchers in youth-related fields, including child and school psychology, and education.
Keywords
Causes of school shootings
Empirical studies on school shootings
Juvenile violence and homicide
Prevention of school shootings
Risk assessment methods
School shootings case studies
School violence
Social Disintegration and school violence
Violence and media
Bibliographic information
Reviews
From the reviews:
"School Shootings: International Research, Case Studies, and Concepts for Prevention represents an important contribution to the emerging field of research on school rampage shootings, a field that draws from expertise in criminology, psychology, sociology, and media studies. … The volume fills a unique niche and provides a rich foundation for this emerging area of study. This is a book for specialists in this research area as well as for practitioners focused on attenuating risk factors." (Kellina M. Craig-Henderson, PsycCRITIQUES, Vol. 58 (24), June, 2013)