© 2012
The Dawn Mission to Minor Planets 4 Vesta and 1 Ceres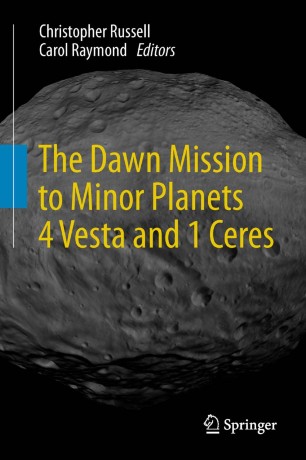 Table of contents
About this book
Introduction
DAWN is the first mission to orbit a main belt asteroid and the first scientific mission to use ion propulsion. Major objectives of this mission include mapping of the surfaces of 4 Vesta and 1 Ceres, determining its topography from stereo measurements, determining its mineralogy, measuring its elemental composition and obtaining gravity data. This book describes the DAWN mission, its exploration and scientific objectives, the instruments that accomplish those objectives, the operations plan and the education and outreach plan. It is directed to those studying asteroids and the evolution of the solar system.

This volume will be a valuable reference for anyone who uses data from the instruments of the DAWN mission.

Previously published in Space Science Reviews, Vol. 163/1-4, 2011.
Keywords
Asteroid Exploration
Ceres Mapping
Dawn Mission Instruments
Ion Propulsion Planetary Mission
Main Belt Asteroid
Planetary Elemental Composition
Planetary Surface Mapping
Solar System Evolution
Vesta Mapping
Bibliographic information