© 2013
Bioaugmentation for Groundwater Remediation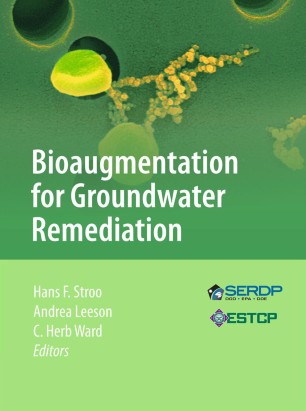 About this book
Introduction
This volume reviews the past 10 to 15 years of intensive research and development that have led to bioaugmentation becoming an accepted technology. It includes background information on the basic microbial processes involved, as well as a thorough summary of the most important bioaugmentation strategies. It will serve as a valuable resource for environmental remediation professionals who seek to understand, evaluate and implement bioaugmentation. Topics include:
A brief history and overview of bioaugmentation.
A detailed review of the discovery of Dehalococcoides and the development of reductive dechlorination of chlorinated solvents as a remedial technology.
The state-of-the-science for the production and handling of Dehalococcoides bioaugmentation cultures.
A practical guide for deciding whether to bioaugment with Dehalococcoides.
Design considerations for implementing bioaugmentation.
A summary of the monitoring options during bioaugmentation with Dehalococcoides.
Reviews of other bioaugmentation techniques, including aerobic cometabolism of chlorinated solvents, and treatment of carbon tetrachloride and methyl tert butyl ether.
An analysis of the costs for bioaugmentation of chlorinated aliphatic compounds in groundwater.
An assessment of and the uncertainties and opportunities for future bioaugmentation research and development.
Each chapter in this volume has been thoroughly reviewed for technical content by two or more experts in each subject area covered. This volume will provide a useful reference for both practitioners and researchers involved in groundwater remediation.
Keywords
chlorinated solvents
environmental remediation
microbial processes
Bibliographic information