© 2012
Functional Assessment for Challenging Behaviors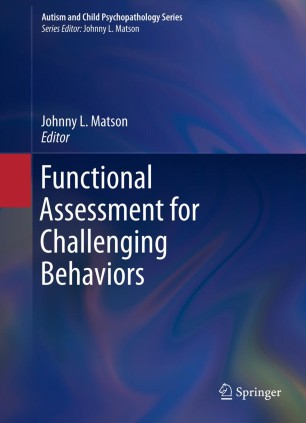 About this book
Introduction
As the cornerstone of applied behavior analysis, functional assessment is supported by a burgeoning literature that focuses on identification of and interventions for aggressive, self-injurious, and other challenging behaviors. Although the number of research studies continues to grow, full-length volumes on using functional assessment to address these behaviors remain few and far between.
Comprehensive in coverage, Functional Assessment for Challenging Behaviors expands the knowledge base by providing information on all aspects of its topic. This unique volume addresses basic questions in salient detail, from types and rates of challenging behaviors to populations that warrant functional assessment. In addition, it examines typical assessment techniques, including interview, scaling, experimental, and in vivo methods. The use of functional assessment in treatment planning – and in combination with other interventions – is covered in depth. An especially timely chapter identifies key ethical and legal concerns in working with challenging behavior populations.
Coverage includes:
The history of behavior analysis and functional assessment.
The nature, prevalence, and characteristics of challenging behaviors.
Interview and observation methods in functional assessment and analysis.
Experimental functional analysis for challenging behaviors.
Treatment methods commonly used with functional assessment.
Using functional assessment in treatment planning.
Functional Assessment for Challenging Behaviors is an essential resource for researchers, scientist-practitioners, and graduate students in clinical child and school psychology, pediatric psychiatry and medicine, social work, rehabilitation, and developmental psychology.
Keywords
ABA
ASD
Applied behavior Analysis
Assessment
Autism
Behavioral function
Challenging behaviors
Developmental disabilities
Ethical issues
Experimental functional analysis
Functional analysis
Functional assessment
IDEA
Individuals with Disabilities Education Act
Intellectual disabilities
Interventions
Interview methods
Legal issues
PDDs
Pervasive developmental disabilities
Replacement behaviors
Scaling methods
Special education
Bibliographic information
Reviews
From the reviews:
"This text was well-written and flows well. … The authors labor on about how functional assessments are implemented, which undoubtedly would be useful detail for a beginning practitioner or college student. … this is a useful resource for college students as well as clinicians practicing in evidence-based child mental health. The editors were able to summarize pertinent research in a wide area and condense it into a logical sequence. They were able to describe challenging behaviors and the importance of functional assessments." (Karen Li, Courageous Psychology, karenlipsychology.blogspot.com.au, July, 2013)
"Those from fields of clinical psychology, school psychology, applied behavior analysis, pediatric psychiatry, social work, and developmental psychology, will appreciate the review and update of essential theory and applied information offered in this volume... For those using applied behavior analysis, the text addresses current issues and questions in the field, with the newest findings about the application of functional analysis to challenging behaviors... The book provides a clear, cogent presentation about where behaviorism has come from conceptually, what changes and advancements have occurred, and where things have landed." (Julie Nelson, Psychology Times, Vol. 4 (10), June 2013)
"Functional Assessment for Challenging Behaviors provides clinicians the foundational knowledge needed to teach parents how to understand the causes of behavior in order to change future behavioral responses … . Matson and colleagues describe the technology and methods that are essential for clinicians who want to work with families where presenting concerns are complex and difficult behavioral problems. The book provides a summary of the techniques and methods for analyzing behavior in the context of environmental antecedents and consequences." (Carol Naumann McKarrin, PsycCRITIQUES, Vol. 58 (16), April, 2013)
"This book discusses applying behavior theory to difficult behaviors including self-injurious behavior (SIB), stereotypic behavior, aggressive behavior, and feeding disorders. … This book is easy to read and contains good information to assist clinicians in addressing problematic behaviors. … This book does a good job of providing answers for assessing and treating problematic behaviors. … The book should be in the libraries of clinicians and researchers who are assisting individuals with more serious/persistent behavior problems." (Gary B. Kaniuk, Doody's Review Service, December, 2012)