© 2012
Grating Spectroscopes and How to Use Them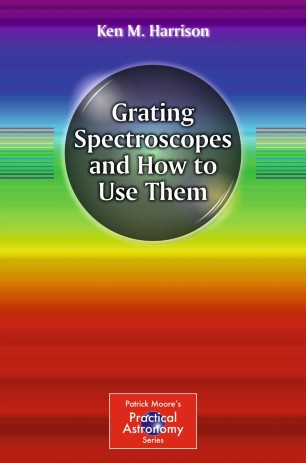 About this book
Introduction
Transmission grating spectroscopes look like simple filters and are designed to screw into place on the eyepiece tube of a telescope for visual use, or into a camera adapter for digicam or CCD imaging. They are relatively inexpensive and by far the easiest type of astronomical spectroscope to use, and so are the starting point for most beginners.
Using the most popular commercially made filter gratings - from Rainbow Optics in the United States to Star Analyser in the United Kingdon - as examples, the book provides all the information needed to set up and use the grating to obtain stellar spectra. It also presents methods of analyzing the results. No heavy mathematics or formulas are involved, although a reasonable level of proficiency in using an astronomic telescope and, if relevant, imaging camera, is assumed.
This book contains many practical hints and tips - something that is almost essential to success when starting out. It encourages new users to get quick results, and by following the worked examples, successfully carry out basic analysis of spectra.
With this author's earlier (intermediate level) book, Astronomical Spectroscopy for Amateurs, this book provides a perfect companion for those who want to know a lot more about what spectrographs tell us about the stars. And you'd be surprised at how much they tell us!
Keywords
Astronomical spectroscopy
Beginning spectroscopy
CCD spectroscopy
Observational astronomy
Practical spectrometers
Rainbow optics
Star analyzer
Stellar spectroscope
Transmission grating
Transmission spectroscope
Bibliographic information