© 2013
Concise Guide to Databases
A Practical Introduction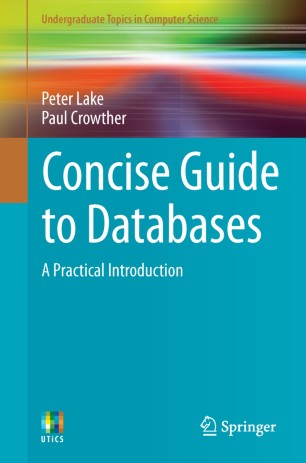 Table of contents
About this book
Introduction
Modern businesses depend on data for their very survival, creating a need for sophisticated databases and database technologies to help store, organise and transport their valuable data.
This easy-to-read textbook/reference presents a comprehensive introduction to databases, opening with a concise history of databases and of data as an organisational asset. As relational database management systems are no longer the only database solution, the book takes a wider view of database technology, encompassing big data, NoSQL, object and object-relational, and in-memory databases. The text also examines the issues of scalability, availability, performance and security encountered when building and running a database in the real world.
Topics and features:
Presents review and discussion questions at the end of each chapter, in addition to skill-building, hands-on exercises
Introduces the fundamental concepts and technologies in database systems, placing these in an historic context
Describes the challenges faced by database professionals
Reviews the use of a variety of database types in business environments
Discusses areas for further research within this fast-moving domain
Suggests a structure for a potential university course in the preface
With its learning-by-doing approach, supported by both theoretical and practical examples, this clearly-structured textbook will be of great value to advanced undergraduate and postgraduate students of computer science, software engineering, and information technology. Practising database professionals and application developers will also find the book an ideal reference that addresses today's business needs.
Keywords
Big Data
Database
Database Administration
Database Performance
Database Technologies
IT Infrastructure
NoSQL
Relational
Bibliographic information
Reviews
From the book reviews:
"You may be interested in this book if you are a database newcomer or if you want to get a bigger picture of databases in general. Also, if you want to look at new solutions in DB business that could suit your company then you may be interested in this book. … This book may be useful if you are starting out on your DB journey and want to quickly get to know what it is all about." (Konrad Zdanowski, Vertabelo blog, vertabelo.com, March, 2015)
"Students who want to learn about the changes in concepts related to data and databases will benefit from reading this book. … This book will help computer scientists, students, and people who are working on data to gain a good understanding of basic data concepts and trends in data. I highly recommend it to engineers working on subjects related to data and to graduate /undergraduate students as a reference book." (Gulustan Dogan, Computing Reviews, August, 2014)
"I found this book quite interesting, and easy to read and follow. It is very well structured, with good usage of theoretical and practical examples and many illustrations. … I would recommend it for computer science undergraduates, as well as postgraduate students and researchers … . a valuable source for self-study for practicing database professionals, or even for a course taught at the undergraduate or postgraduate level. Some university instructors may even adopt it as a core text." (Georgia Garani, Computing Reviews, June, 2014)