© 2013
Multi-finger Haptic Interaction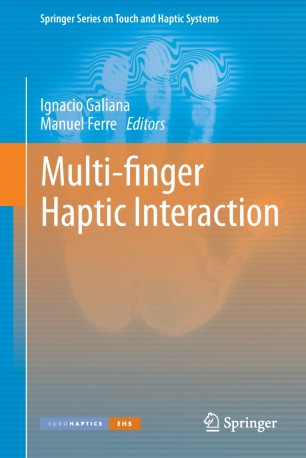 Table of contents
About this book
Introduction
Multi-finger Haptic Interaction presents a panorama of technologies and methods for multi-finger haptic interaction, together with an analysis of the benefits and implications of adding multiple-fingers to haptic applications.
Research topics covered include:
design and control of advanced haptic devices;
multi-contact point simulation algorithms;
interaction techniques and implications in human perception when interacting with multiple fingers.
These multi-disciplinary results are integrated into applications such as medical simulators for training manual skills, simulators for virtual prototyping and precise manipulations in remote environments.
Multi-finger Haptic Interaction presents the current and potential applications that can be developed with these systems, and details the systems' complexity. The research is focused on enhancing haptic interaction by providing multiple contact points to the user.
This state-of-the-art volume is oriented towards researchers who are involved in haptic device design, rendering methods and perception studies, as well as readers from different disciplines who are interested in applying multi-finger haptic technologies and methods to their field of interest.
Keywords
Haptic Applications
Haptic Devices
Haptic Interface
Haptic Technologies
Multi-Finger Grasps
Multimodal Interfaces
Perception
Rendering Methods
Bibliographic information