© 2012
Performance Metrics for Haptic Interfaces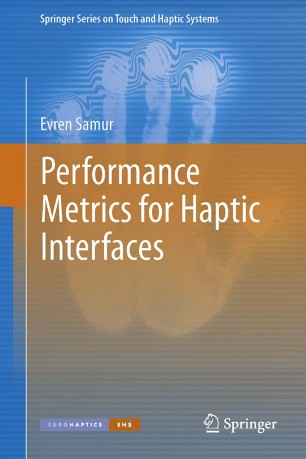 Table of contents
About this book
Introduction
Haptics technology is being used more and more in different applications, such as in computer games for increased immersion, in surgical simulators to create a realistic environment for training of surgeons, in surgical robotics due to safety issues and in mobile phones to provide feedback from user action. The existence of these applications highlights a clear need to understand performance metrics for haptic interfaces and their implications on device design, use and application. Performance Metrics for Haptic Interfaces aims at meeting this need by establishing standard practices for the evaluation of haptic interfaces and by identifying significant performance metrics.
Towards this end, a combined physical and psychophysical experimental methodology is presented. Firstly, existing physical performance measures and device characterization techniques are investigated and described in an illustrative way. Secondly, a wide range of human psychophysical experiments are reviewed and the appropriate ones are applied to haptic interactions. The psychophysical experiments are unified as a systematic and complete evaluation method for haptic interfaces. Finally, synthesis of both evaluation methods is discussed.
The metrics provided in this state-of-the-art volume will guide readers in evaluating the performance of any haptic interface. The generic methodology will enable researchers to experimentally assess the suitability of a haptic interface for a specific purpose, to characterize and compare devices quantitatively and to identify possible improvement strategies in the design of a system.
Keywords
Device Evaluation
Force Feedback
Haptics
Psychophysics
Tactile Feedback
Bibliographic information