© 2001
An Information Security Handbook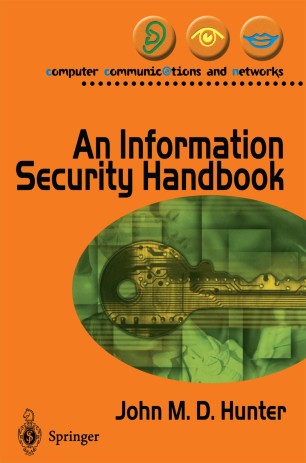 About this book
Introduction
Aimed primarily at final year undergraduate courses and MSc courses on Information Systems, Management of Information Systems and Design of Information Systems, this textbook aims to provide answers to five questions;
What is security? What are the security problems particular to an IT system? What can be done to reduce the security risks associated with such a system? In a given situation, what are the appropriate security countermeasures? How should one set about procuring an information system with security implications?
It looks at the different goals organisations might have in employing security techniques (availability, integrity, confidentiality, exclusivity) and which technique is best suited to achieving each goal. With guidelines appropriate for the protection of both conventional commercial and military systems, An Information Security Handbook will be of interest to computer system managers and administrators in any commercial or government organisation.

Keywords
Gateway
Internet
Kerberos
RAID
TCP/IP
communication
computer
data security
database
firewall
monitor
network security
privacy
Bibliographic information