© 2002
Satellite Personal Communications for Future-generation Systems
Final Report: COST 252 Action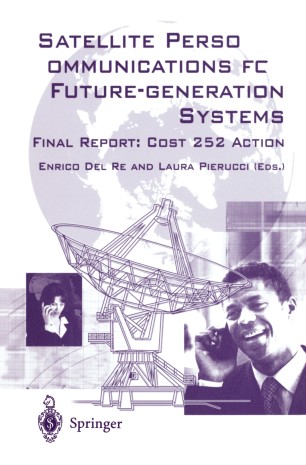 Table of contents
About this book
Introduction
Consisting of selected technical contributions to the European Project COST252 (Evolution of Satellite Personal Communications from 2nd to Future Generation Systems) this volume provides many innovative results which can be the basis for new global (mobile /terrestrial/satellite) telecommunications systems providing multimedia services at high rates.
The latest research results and new perspectives on communications problems are presented in areas such as:
- Satellite systems;
- Management signalling and resource allocation;
- CDMA system and receivers;
- Protocols;
- Coding;
- Satellite-ATM and Satellite-UMTS.
The book deals with the satellite components for the third-generation mobile UMTS/IMT-2000 Systems. The satellite component (both geostationary and non-geostationary constellations of satellites) of the future systems offers in particular an effective mean for providing advanced mobile wideband multimedia services to users the world-wide at rates up to 2Mb/s. Satellite Personal Communications for Future-generation Systems will be of particular interest for both researchers and telecommunications professionals.
Keywords
Communications protocols
Modulation
Next-generation mobile systems
Personal communications
Routing
Satellite communications
UMTS systems
Universal Mobile Telecommunications System (UMTS)
coding
communication
multimedia
satellite
satellites
telecommunications
Bibliographic information