Multi Modality State-of-the-Art Medical Image Segmentation and Registration Methodologies
Volume II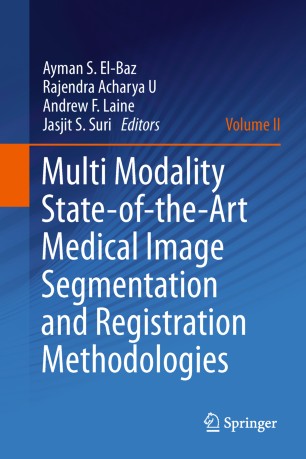 About this book
Introduction
With the advances in image guided surgery for cancer treatment, the role of image segmentation and registration has become very critical. The central engine of any image guided surgery product is its ability to quantify the organ or segment the organ whether it is a magnetic resonance imaging (MRI) and computed tomography (CT), X-ray, PET, SPECT, Ultrasound, and Molecular imaging modality. Sophisticated segmentation algorithms can help the physicians delineate better the anatomical structures present in the input images, enhance the accuracy of medical diagnosis and facilitate the best treatment planning system designs. The focus of this book in towards the state of the art techniques in the area of image segmentation and registration.
Ayman S. El-Baz is currently assistant professor of Bioengineering in the Department of Bioengineering at the University of Louisville (UofL). He is an expert in the fields of bioimaging modeling and computer assisted diagnosis systems. Dr. El-Baz received his Doctorate from University of Kentucky, Louisville, KY.
Rajendra Acharya U, PhD, DEng is leader in the field of data mining and medical devices. He received two doctorates: one from National Institute of Technology Karnataka, Surathkal, India and second from Chiba University, Japan. He is a Senior IEEE member and on the editorial board of several journals. Currently, he is visiting faculty at Ngee Ann Polytechnic, Singapore.
Andrew Laine is a Director of the Heffner Biomedical Imaging Laboratory in the Department of Biomedical Engineering at Columbia University in New York City and is Professor of Biomedical Engineering and Radiology (Physics). His research interests include quantitative image analysis; cardiac functional imaging: ultrasound and MRI, retinal imaging, intravascular imaging and biosignal processing. He is a Fellow of AIMBE and IEEE.
Dr. Jasjit S. Suri is an innovator, scientist, a visionary, an industrialist and an internationally known world leader in Biomedical Engineering. Dr. Suri has spent over 20 years in the field of biomedical engineering/devices and its management. He received his Doctorate from University of Washington, Seattle and Business Management Sciences from Weatherhead, Case Western Reserve University, Cleveland, Ohio.
Bibliographic information