Primates of Gashaka
Socioecology and Conservation in Nigeria's Biodiversity Hotspot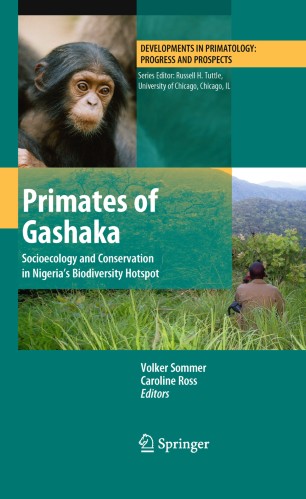 About this book
Introduction
The remote Gashaka region of north-eastern Nigeria is still largely unexplored. In this premier wilderness, monkeys and apes survive in large numbers – part of a rich assemblage of wildlife at the interface between the dry sub-Saharan Guinea savannah and the moist Cameroonian highlands.
Primates include the rarest chimpanzee subspecies, colobus, guenons and baboons, which thrive here despite the wet climate. The main ethnic groups – Fulani cattle herders and Hausa speaking subsistence farmers – still follow age-old traditions. Conservation challenges comprise settlements in protected areas, deforestation, annual fires, livestock grazing and hunting.
Primates of Gashaka provides first-hand research accounts in conjunction with the Gashaka Primate Project, founded in 2000. Topics covers primate socioecology; genetics and phylogeography; nutritional ecology; vocal communication and cognition; ethno-botany and ethno-primatology; human subsistence strategies and conflicts with wildlife; as well as habitat surveys assessing success and failure of conservation approaches. The contributions aim for interdisciplinarity and comparative dimensions, across species and the African continent.
This pioneering volume about one of the least known iconic primate habitats is of interest to primatologists, anthropologists, policy-makers and conservationists alike.
Bibliographic information