© 2010
Evolving Towards the Internetworked Enterprise
Technological and Organizational Perspectives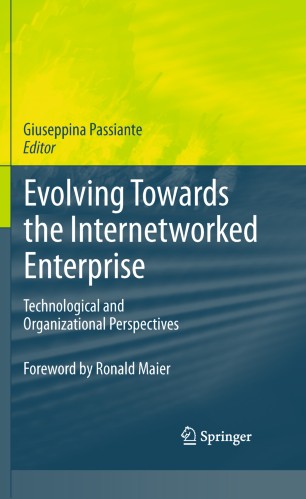 Table of contents
About this book
Introduction
A new model of business has emerged within the Digital-Economy called Internetworked Enterprise (IE); it's a model that posits networks, communities of individuals and refusal of a centralized mindset as the core elements of the new frame of reference. Internetworked Enterprises are called by some scholars 'Extended' Enterprises, which use digital network to co-operate and compete with other e-business community partners by exchanging knowledge and information across trans-national borders.
Evolving Towards the Internetworked Enterprise: Technological and Organizational Perspectives is an edited volume based on a three year research project financed by the Italian Ministry of Research and Education. Researchers for this project are located at Polytechnic of Milan, University of Milan, University of Chieti, Engineering S.P.A and ISUFI-University of Salento. This book presents an overview of IE business methodologies, models, and an interpretative framework analyzing the sector and organizational contingencies that influence the digitalization of organizational processes in networks of SMEs (Small and Medium Enterprise). A set of case studies that provide empirical evidence on the IE phenomenon is included as well.
This book is designed for advanced-level students in computer science and business management concentrating on e-business, digital computing, information technology, economics of technology and innovation management as a reference or secondary text book. Practitioners working in these fields as corporate strategic planners and consultants will also find this book a valuable asset.
Keywords
Computer
E-Business
Internetworked enterprise
business processes reengineering
computer science
currentjm
digital enterprise
digital processes
digital processes monitoring
internet
knowledge
modeling
processes performance
processes representation
Bibliographic information
Reviews
From the reviews:
"Passiante, along with the other authors of the papers collected in this book, exposes the secrets and power of internetworked enterprises (IEs). The first six papers describe the development methodologies, modeling environments, architectures, infrastructure, and business processes of such extended enterprises, as well as the issues with managing them. The remaining six papers are case studies that describe actual designs and implementations of IEs. … Move this book to the top of your reading list. The future it describes is only 20 minutes away." (Ernest Hughes, ACM Computing Reviews, December, 2010)