© 2010
Terminological Ontologies
Design, Management and Practical Applications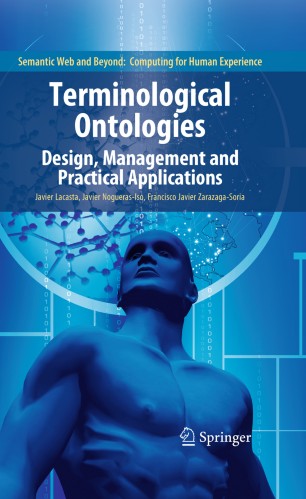 About this book
Introduction
Information infrastructures are integrated solutions based on the fusion of information and communication technologies. They are characterized by the large amount of data that must be managed accordingly. An information infrastructure requires an efficient and effective information retrieval system to provide access to the items stored in the infrastructure. Terminological Ontologies: Design, Management and Practical Applications presents the main problems that affect the discovery systems of information infrastructures to manage terminological models, and introduces a combination of research tools and applications in Semantic Web technologies. This book specifically analyzes the need to create, relate, and integrate the models required for an infrastructure by elaborating on the problem of accessing these models in an efficient manner via interoperable services and components.
About this book: • Includes the common framework for integration of terminological models into information infrastructures, covering the different management steps (acquisition, storage, and access). • Provides a revision of the main requirements of terminological models in different information retrieval systems and proposes integration solutions to facilitate and simplify its management. • "This book is essential for those who will have to create ontologies from existing terminological databases," comments Dr. Jacques Teller, University Of Liege, Belgium.
Terminological Ontologies: Design, Management and Practical Applications is geared toward information management systems and semantic web professionals working as project managers, application developers, government workers and more. Advanced undergraduate and graduate level students, professors and researchers focusing on computer science will also find this book valuable as a secondary text or reference book.
Keywords
Clustering
Information Infrastructures
Information Retrieval
Information Systems
Metadata
Ontologie
Racter
Terminological Ontologies
Terminological Ontology Management and Access
Terminological Ontology Mapping
Terminological Ontology Representation
learning
semantic web
Bibliographic information
Reviews
From the reviews:
"Handling terminology in designing and building an ontology is not only a support activity within a larger activity, but it can also create an ontology in its own right. This slim, but thorough, volume addresses this problem. … includes several important developments from Europe that will be valuable and useful to a non-European readership. … it covers a lot of material. It is dense, but well organized. Anyone working on ontology engineering can benefit by studying this book … ." (Anthony J. Duben, ACM Computing Reviews, May, 2011)