© 2010
Handbook of Cloud Computing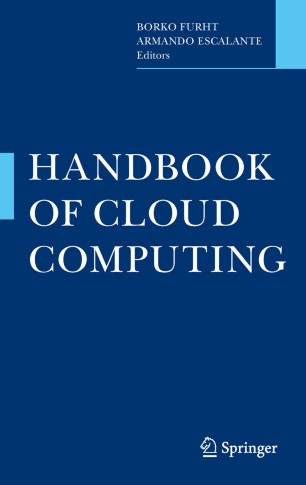 About this book
Introduction
Cloud computing has become a significant technology trend. Experts believe cloud computing is currently reshaping information technology and the IT marketplace. The advantages of using cloud computing include cost savings, speed to market, access to greater computing resources, high availability, and scalability.
Handbook of Cloud Computing includes contributions from world experts in the field of cloud computing from academia, research laboratories and private industry. This book presents the systems, tools, and services of the leading providers of cloud computing; including Google, Yahoo, Amazon, IBM, and Microsoft. The basic concepts of cloud computing and cloud computing applications are also introduced. Current and future technologies applied in cloud computing are also discussed. Case studies, examples, and exercises are provided throughout.
Topics covered include, among others:
• Cloud Computing Fundamentals
• Systems and Tools
• Cloud Applications and Solutions
• Data-Intensive Supercomputer in the Cloud
• High Performance Computing
• Virtual Private Clouds
• Scientific Services and Data Management in the Cloud
• Enterprise Knowledge Clouds
• Medical Information Systems
Handbook of Cloud Computing is intended for advanced-level students and researchers in computer science and electrical engineering as a reference book. This handbook is also beneficial to computer and system infrastructure designers, developers, business managers, entrepreneurs and investors within the cloud computing related industry.
Keywords
Cloud architectures
Cloud computin
Cloud platforms
Cloud standards
Cloud storage
Enterprise knowledge clouds
Private Cloud
Scheduling cloud workflows
Scientific cloud computing
Virtualization technologies
Web semantics in the clouds
cloud computing
currentjm
grid computing
Bibliographic information
Reviews
From the reviews:
"Cloud computing affects all areas where computers and mobile clients are used, including industry, government, and science. This book offers a multitude of examples of this new way of handling data and computer resources--from basic research in the life sciences and physics to enterprise-level applications in industry. … handbook is highly relevant and provides the reader with good information about the fundamentals of all aspects of cloud computing. After reading the book, readers will understand how much is already being done in the cloud." (Aake Edlund, ACM Computing Reviews, May, 2011)