Microbial Endocrinology
Interkingdom Signaling in Infectious Disease and Health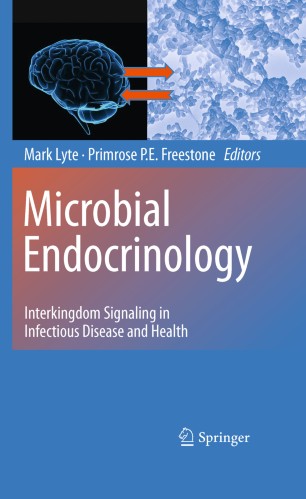 About this book
Introduction
About this book
Microbial endocrinology represents a newly emerging interdisciplinary field that is formed by the intersection of the fields of neurobiology and microbiology. It is the intent of this book to introduce a new perspective to the current understanding not only of the factors that mediate the ability of microbes to cause disease, but also to the mechanisms that maintain normal homeostasis. The discovery that microbes can both synthesize and directly respond to neuroendocrine hormones provides for a new framework with which to investigate how microorganisms interface not only with vertebrates, but also with invertebrates and even plants.
The reader will learn that neuroendocrine hormones, most commonly associated with mammals, are actually found throughout the plant, insect and microbial kingdoms to an extent that will undoubtedly surprise many, and most importantly, highlight how interactions between microbes and neuroendocrine hormones influence health and the pathophysiology of infectious disease. This book will lead its readers to the understanding that through eons of association with eukaryotic organisms, bacteria have evolved specific detection systems for neuroendocrine hormones, which they utilize not only to "sense" their environment, but also to co-op products of neurophysiological responses for their own survival.
About the Editors
Prof. Mark Lyte, Ph.D., M.S., MT(ASCP) is a Professor in the Department of Pharmacy Practice, and adjunct Professor in the Departments of Internal Medicine and Microbiology and Immunology, Texas Tech University Health Sciences Center. Prof. Lyte conducted experiments in 1991 that subsequently led him shortly thereafter to propose and found the field of microbial endocrinology. In addition to having served on scientific review panels for the National Institutes of Health and other worldwide agencies, Prof. Lyte has been awarded the Joseph Susman Memorial Award for Surgical Infectious Disease Research and was named a finalist for the NIH Director's Pioneer Award.
Dr. Primrose Freestone, BSc(Hons), PhD, PGCE is a Lecturer in Clinical Microbiology, in the Department of Infection, Immunity and Inflammation, University of Leicester. Dr. Freestone was the first to identify tyrosine phosphorylation as a regulatory mechanism in bacteria, and to elucidate the mechanisms by which stress hormones induce bacterial growth. She is also an inventor in the fields of microbial diagnostics and dietary bioactives, and has been awarded Fellowships to develop entrepreneurial activities in life science biotechnology.
Keywords
bacteria
bacterial pathogens
homeostasis
hospital-acquired infection
infection
infections
infectious
infectious disease
pathophysiology
physiology
signaling system
Bibliographic information