Handbook of Gender Research in Psychology
Volume 1: Gender Research in General and Experimental Psychology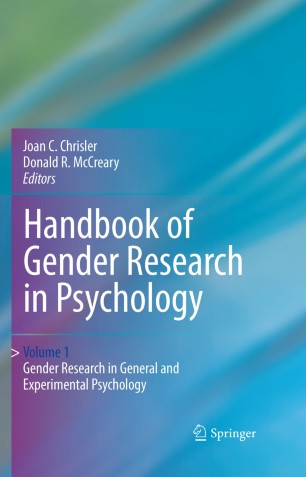 Table of contents
About this book
Introduction
A major milestone in psychology has been the shift from concepts of sex, a strictly biological construct, to gender, with its range of biopsychosocial dimensions. Accordingly, recent years have seen gender research achieve marked improvements in methods, terminology, and breadth of content. The Handbook of Gender Research in Psychology brings these achievements into bold perspective by presenting both the current state of the field and an ambitious agenda for the future.
Volume 1, Gender Research in General and Experimental Psychology, gathers a wide variety of established and emerging voices across the range of specialties to offer the latest ideas, theories, and findings in gender as applied to both women and men (and where appropriate, boys and girls), including sexual minorities. In this volume, contributors critique strengths and limitations of current research, discuss methodological issues from recruiting participants to communicating results, and address cultural and other diversity considerations that have often been absent from the field. Their findings offer a fresh perspective, whether readers are involved in testing hypotheses, developing models, conducting experiments, or interpreting data. All chapters include recommendations for future avenues for research.
Areas covered in Volume 1:
The history of the psychology of women, men/masculinity, and sexual minorities

Qu
antitative and qualitative research methods, including reviews of commonly used measures
The brain and behavior: physiology and beyond
Learning, education, and cognition, including academic, spatial, and creative abilities
Written, oral, and nonverbal communication
Emotion, motivation, and sexuality
Gender roles and identity across the lifespan
Psychologists, neuroscientists, gender researchers, and professors and graduate students in related fields will welcome Volume 1 of the
Handbook of Gender Research
in Psychology
as refreshingly informative and eminently practical.
Keywords
Body image
Experiment
Feminist psychology
Gender
Gender Research
Gender identity
Gender roles
Gender stereotypes
Sex differences
Sexual orientation
evolutionary psychology
intelligence
psychology
Bibliographic information