Handbook of Stressful Transitions Across the Lifespan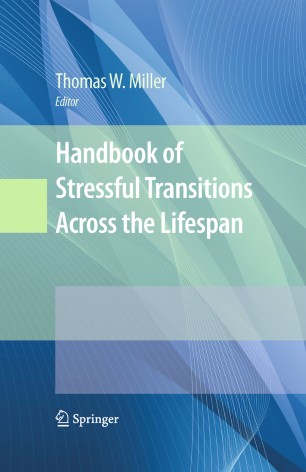 Table of contents
Processing Transitions in the Life Span

Education and Career Transitions

Marriage, Family and Sexual Life Cycle Transitions

Legal, Ethical and Financial Transitions

Life Threatening Transitions in Maturation and Health

Cultural, Religious, and Spiritual Influences in Life's Transitions

Directions and Interventions in Stressful Life Transitions
About this book
Introduction
The modern life cycle is characterized by stressful transitions, when unexpected events—and even many expected ones—challenge people's functioning, health, and sense of self-worth. The international, multidisciplinary perspectives provided in the Handbook of Stressful Transitions Across the Lifespan cover these periods as they occur through youth, adulthood, and aging, bringing together theoretical and clinical findings, case studies, and literature reviews in one authoritative volume.
A diverse panel of clinicians, researchers, and educators focuses on the psychological, biological, cultural and spiritual factors surrounding not only trauma and loss but also coping and growth, risk and mitigating factors, and promising interventions. Whether topics are just beginning to receive in-depth attention (the first job; becoming adoptive parents), ongoing issues requiring new insights (veterans' adjustment to civilian life; chronic illness), or emerging concepts (trauma growth; animal-assisted therapy), coverage is well-written, engaging, and eminently useful.
A sampling of the topics featured in the Handbook:
The developmental neurobiology of stress.

The long-term effects of divorce on children.

Self-regulation across life transitions.

Money in (E)motion: stressful financial transitions.

The influence of food on adapting to life stressors.

The transition to retirement as a stressful event.
With its comprehensive scope and wealth of data, the Handbook of Stressful Transitions Across the Lifespan will appeal to a variety of professional readers, including researchers and scholars in the fields of social, developmental and clinical psychology, sociology, and public health.
Keywords
Emotion
Erik Erikson
Parkinson
Public Health
Stress
development
genetics
intervention
Bibliographic information