Don't Spend a Dime
The Path to Low-Cost Computing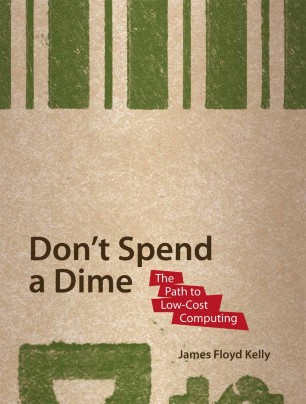 About this book
Introduction
Stop paying for software. A world full of high–quality software is out there that you don't have to spend a dime for. If you've just spent your entire computing budget on a PC only to find that you need software to do anything interesting, this is the book that will show you how to get what you need without wreaking havoc on your finances. Install the right software to make a great work computer for no extra cost.
Packed with the practical, hands–on guidance and technical know–how that you've come to expect from Apress, Don't Spend A Dime: The Path to Low–Cost Computing takes you on a tour of the very best zero–cost software in each of the many categories that matter to the typical PC user. Learn to edit photos on the Internet without having to install any software at all. Find out where to get a free office suite for word processing and spreadsheet work. Whatever your need, James Kelly, best–selling technology author, guides you through the exciting and often confusing world of zero–cost computing. This book
Tells you what you need to install to have a fantastic work computer without spending a dime
Saves you money by showing you how to meet your computing needs
Saves you time by pointing you directly to the best free software
Saves you work by illustrating the most commonly performed tasks with each zero–cost software
Gives you choices and the ability to make your own decisions for your own needs and requirements
Before you go buy that $400.00 office suite—or worse, before you "borrow" it from work—stop! Let this book show you how to save hundreds of dollars in expensive software. Learn all about the free tools that the digerati use to make their lives better, and stop paying out the nose for software. Don't spend a dime!
Keywords
Internet
Processing
computer
management
organization
technology
time
Bibliographic information
DOI

https://doi.org/10.1007/978-1-4302-1864-7

Copyright Information

Apress 2009

Publisher Name

Apress

Print ISBN

978-1-4302-1863-0

Online ISBN

978-1-4302-1864-7