Biotechnology for Agro-Industrial Residues Utilisation
Utilisation of Agro-Residues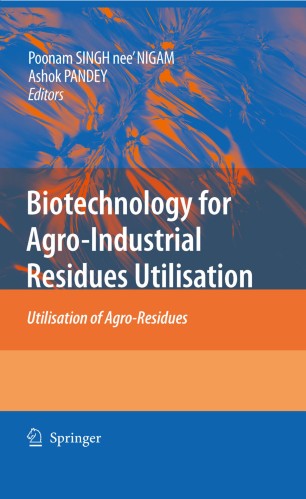 Table of contents
About this book
Introduction
Residues from agriculture and the food industry consist of many and varied wastes, in total accounting for over 250 million tonnes of waste per year in the UK alone. Biotechnological processing of these residues would allow these waste products to be used as a resource, with tremendous potential. An extensive range of valuable and usable products can be recovered from what was previously considered waste: including fuels, feeds and pharmaceutical products. In this way Biotechnology can offer many viable alternatives to the disposal of agricultural waste, producing several new products in the process.
This book presents up-to-date information on a biotechnology approach for the utilisation of agro-industrial residues, presenting chapters with detailed information on materials and bioconversion technology to obtain products of economic importance:
The production of industrial products using agro-industrial residues as substrates

The biotechnological potential of agro-industrial residues for bioprocesses

Enzymes degrading agro-industrial residues and their production

Bioconversion of agro-industrial residues
Written by experts in Biotechnological processing of Agro-Industrial Residues, this book will provide useful information for academic researchers and industry scientists working in biotechnology, waste management, agriculture and the food industry.
Keywords
Fermentation
biofuel
biomass
biotechnology
protein
Bibliographic information