© 2009
Intelligent Technical Systems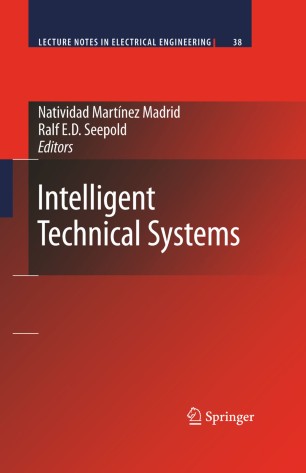 Table of contents
About this book
Introduction
Intelligent technical systems are networked, embedded systems incorporating real-time capacities that are able to interact with and adapt to their environments. These systems need innovative approaches in order to meet requirements like cost, size, power and memory consumption, as well as real-time compliance and security.
Intelligent Technical Systems covers different levels like multimedia systems, embedded programming, middleware platforms, sensor networks and autonomous systems and applications for intelligent engineering.
Each level is discussed by a set of original articles summarizing the state of the art and presenting a concrete application; they include a deep discussion of their model and explain all design decisions relevant to obtain a mature solution.
The multimedia processing systems provide solutions for image processing, multimedia platform design and discovery protocols.

The embedded programming section shows approaches in physical modelling and specification, knowledge extraction from code, real-time compilers and library development.

Middleware platforms for intelligent technical systems connect different applications on networked devices via services. The main aspects handled in this part are dynamic configuration, integration of hardware and software communication, sensor integration and virtualisation.

The sensor networks part discusses the deployment of sensor networks, low-cost actuators and intelligent, fault-tolerant design of autonomous mobile robots.

The final section presents different applications of intelligent engineering, discussing memory management, requirement traceability, and security aspects.
The results presented will help researchers and engineers to keep ahead with their knowledge in the rapidly evolving field of intelligent technical systems.
Keywords
Audio
FPGA
Middleware
Sensor
Service
autonomous system
development
environment
management
memory
modeling
multimedia
network
programming
verification
Bibliographic information