© 2009
Advances in Haploid Production in Higher Plants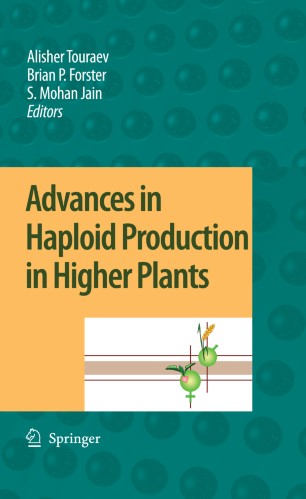 Table of contents
About this book
Introduction
The discovery of haploid Datura plants in 1964 initiated great excitement in plant breeding and genetics communities. Recent years have witnessed a resurgence of activities especially in developing protocols, identifying genes and mechanisms and large scale commercial take up.
The identification of controlling genes has driven functional genomic studies which now dovetail with studies in gene expression, metabolism and changes in cell ultra-structure. World wide take up by plant breeders has been no less impressive, and valuable haploid technologies are increasingly patent protected. The intense activity in haploid research has also resulted in unexpected findings with novel applications.
The core of this book is based on the international symposium on "Haploidy in Higher Plants III", (Vienna 2006), which attracted top international experts in the field. Other invited contributions have been included to provide a rounded view of activities. The book covers topics in: Historical Overviews; Basic Biology; Genetics; Biotechnology; Breeding and Novel Applications. It therefore will appeal to undergraduate students,researchers and small and large scale commercial biotechnology companies.
Keywords
Asteraceae
Embryo
Expression
Glutamin
Proteomics
Tree
gene expression
metabolism
mutant
wheat
Bibliographic information
Reviews
From the reviews:
"The book has twenty-eight chapters compiled by international authors, many of whom have a wealth of experience because of their long involvement in this field of research. … The volume is highly recommended as an addition to any library. It will be a very valuable source of information for personnel involved in research and teaching in academia, and for persons with a more 'industrial' bias." (M. R. Davey, Annals of Botany, Vol. 104 (7), 2009)
"This volume … attempts to give a broad overview of this wide topic, and also presents some recent findings and concepts. … No doubt any researcher in haploid production would find this a very valuable source of information … and drawing on the expertise of many of the acknowledged leaders in this area of science. For a general reader, there is a wide range of chapters, encompassing useful subjects such as patents and haploids, and in many cases providing a wealth of information … ." (Steve Millam, Experimental Agriculture, Vol. 46 (1), 2009)