Learning Communities In Practice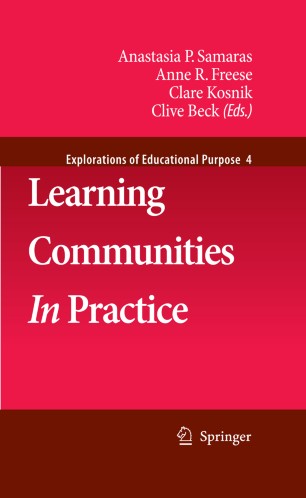 Table of contents
About this book
Introduction
Most would agree that a learning community of practice cultivates social and intellectual development in educational settings but what are the other benefits and what does a learning community actually look like in practice? This book explores such questions as: "Are learning communities essential in education?" "How are they designed and developed?" "What difference do they make in learning?" The book contains contributions of educators who share their research and practice in designing and implementing learning communities in school, university, and professional network settings. It presents their experiences, and the "how to" of these educators who are passionate about building and sustaining learning communities to make a real difference for students, teachers, faculty, and communities. Combining scholarly and practitioner research, the book offers practical information to teachers, school and university administrators, teacher educators, and community educators.
"This is an extraordinary collection of theoretically sound and practical ideas for teachers and teacher educators. The authors present fascinating accounts of down-to-earth practices tested in experience. Priceless!"
Nel Noddings, Lee Jacks Professor of Education Emerita, Stanford University
"This book provides a wealth of information on how learning communities function in practice and, more importantly, how they are sustained over time. The chapter authors document a wide array of international programs located in different institutional settings, including cross-institutional and cross-national programs. I recommend this book for both university-based and school or district-based educators who are serious about improving instruction based on locally available data."

Renée T. Clift, Professor, University of Illinois at Urbana-Champaign
"As the title announces, this wide-ranging collection of chapters shows learning communities actually at work, as their members– in schools, universities, and professional networks – describe what got them started and what keeps them going, despite the wider educational community's general lack of support. Common to all chapters is a strong awareness of the benefits of learning communities not only for the teachers and researchers who share, critique and improve their own professional activities, but also for the students they teach; indeed, in several cases, the authors' classrooms also metamorphosed into powerful communities of student coresearchers. Thus, for those who have been involved in a learning community such as those described here, the answer to the question the editors pose, "Are learning communities essential in education?" the answer is an unequivocal "Yes." Hopefully, this book will enable others to see why this is so; it will certainly provide guidance for those who decide to embark on the kinds of journey that are so eloquently and persuasively presented in all the different sections of this book. "
Gordon Wells, Professor of Education, University of California, Santa Cruz
Keywords
communities of practice
curriculum
education
higher education
information
learning
school partnerships
teacher education
teacher training
Bibliographic information
DOI

https://doi.org/10.1007/978-1-4020-8788-2

Copyright Information

Springer Netherlands 2008

Publisher Name

Springer, Dordrecht

eBook Packages

Humanities, Social Sciences and Law Education (R0)

Print ISBN

978-1-4020-8787-5

Online ISBN

978-1-4020-8788-2