© 2008
Non-Equilibrium Phase Transitions
Volume I: Absorbing Phase Transitions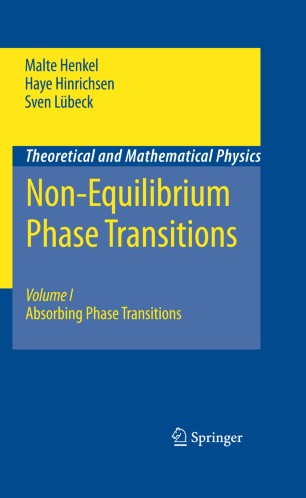 About this book
Introduction
This book describes two main classes of non-equilibrium phase-transitions: (a) static and dynamics of transitions into an absorbing state, and (b) dynamical scaling in far-from-equilibrium relaxation behaviour and ageing.
The first volume begins with an introductory chapter which recalls the main concepts of phase-transitions, set for the convenience of the reader in an equilibrium context. The extension to non-equilibrium systems is made by using directed percolation as the main paradigm of absorbing phase transitions and in view of the richness of the known results an entire chapter is devoted to it, including a discussion of recent experimental results. Scaling theories and a large set of both numerical and analytical methods for the study of non-equilibrium phase transitions are thoroughly discussed.
The techniques used for directed percolation are then extended to other universality classes and many important results on model parameters are provided for easy reference.
Keywords
Canopus
Phase Transition
Phase Transitions
Variance
directed percolation
nonequilibrium phase transitions
numerical simulation
phase transitions into absorbing states
phenomenological scaling theory
renormalisation-group
Bibliographic information
Reviews
From the reviews:
"The monograph concentrates on nonequilibrium phase transitions from fluctuating (ordered) states into so-called absorbing states, which can never be left by the system once reached. … Extended appendices (plus solutions of excercises and answers to problems) on specific models … make the book useful not only to scientists and lecturers, but also to advanced graduate students." (Piotr Garbaczewski, Zentralblatt MATH, Vol. 1165, 2009)
"This research monograph … provides a highly desirable and topical pedagogical introduction as well as a timely overview of recent advances in theoretical investigations of continuous non-equilibrium phase transition from active states to inactive absorbing states. … This text is likely to become a standard reference in the field, and should be an indispensable source of information for both beginning and already seasoned researchers interested in non-equilibrium statistical physics, the theory of stochastic processes, and fundamental properties of reaction-diffusion systems … ." (Uwe C. Täuber, Mathematical Reviews, Issue 2012 h)