International Handbook of Population Aging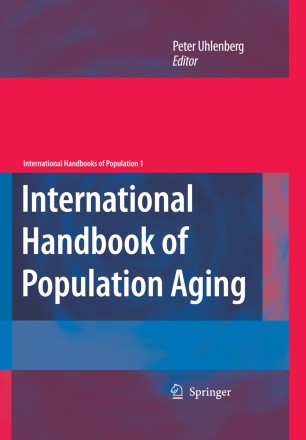 Table of contents
About this book
Introduction
The International Handbook of Population Aging is the first comprehensive volume to examine research on a wide array of the profound implications of population aging. Global population aging is one of the most important issues facing human societies in the early twenty-first century. Population projections show that the proportion of the world's population over age 60 will double between 2000 and 2050, and that about one-third of the people living in developed countries will be over age 60 in 2050. Already there are countries in Europe and Asia where the number of people over age 60 exceed the number of children, and by 2050 some of these countries will have twice as many old people as children. As noted by the 2002 UN World Assembly on Ageing Report, this global trend in population aging is unprecedented in human history, is pervasive across societies, is enduring (there is no going back to younger populations), and has profound implications for human beings.
"An essential reference work."
Glen H. Elder, Jr., Research Professor, Carolina Population Center, University of North Carolina, Chapel Hill
"An absolutely essential reading. The rich fare this volume offers has no match or even close competitor in the professional literature."
Paul Demeny, Distinguished Scholar, Population Council Editor, Population and Development Review
"Exemplary in regard to the range of countries it covers and in focusing on many questions." Karl Ulrich Mayer, Stanley B. Resor Professor of Sociology, Yale University
"An impressive volume, showing the ageing populations around the globe through the lens of some of the best demographic observers."
Martin Kohli, Professor of Sociology, Department of Social and Political Sciences, European University Institute
This is the first handbook to appear in the International Handbooks of Population series, edited by Dudley Poston Jr., Texas A&M University, College Station, TX, USA. Future handbooks in this series will focus on Mortality, Poverty Populations, Migration, Race and Ethnic Demography and more.
Keywords
Ageing
Aging populations
Demography
Gerontology
Global Aging
Nation
Population Aging
Population Studies
age
aging
gender
Bibliographic information