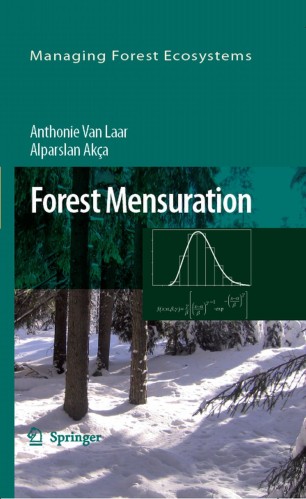 About this book
Introduction
Van Laar and Akça's popular text book, Forest Mensuration, was first published in 1997. Like that first edition, this modern update is based on extensive research, teaching and practical experience in both Europe, and the tropics and subtropics. However, it has also been extensively revised, and now includes chapters on remote sensing and the application of aerial photographs and satellite imagery.
As with its predecessor, this book assumes no advanced knowledge of statistical methods, and combines practical techniques with important historical and disciplinary context. The result is a strong balance between a handbook on traditional mensuration methods, and a valuable reference on the many recent research and inventory-related innovations which have emerged in recent years.
Written in a highly accessible style, the book is aimed primarily at undergraduate students and forest practitioners – and now includes a wide range of worked examples which will provide guidance for readers wishing to process their own data. However, with its wide scope, and including many new instruments for forest measurement, the book will also act as an extremely useful reference material for postgraduate students and forest scientists.
Keywords
Forest inventory
Forest mensuration
Forestry research
Forests and tree plantations management
forest
Bibliographic information