International Handbook of Education for the Changing World of Work
Bridging Academic and Vocational Learning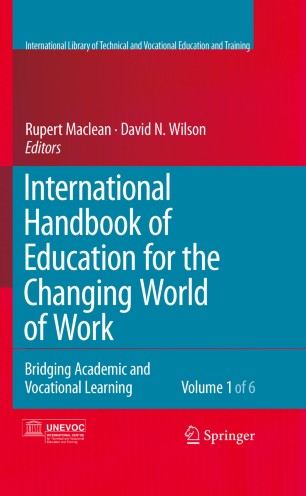 Table of contents
Overview

The Changing Context of Work and Education

Changing Workplace Requirements: Implication for Education

Education and Training in Informal Economies

Education for the World of Work: National and Regional Perspectives

Reforming National Systems of Vocational Education and Training

National Initiatives for Reengineering Education for the New Economy
About this book
Introduction
This 6-volume Handbook covers in detail all of the latest practice in technical and vocational education and training (TVET). Edited by two world-leading authorities on the subject, contributions have come from more than 200 international authors, making this a totally comprehensive text on the subject. The Handbook's aim is to review the developments that have occurred in TVET and provide pointers to improvements in the field.
In this Handbook readers will find information on TVET models from all over the world, reflections on the best and most innovative practice, and dozens of telling case studies. The Handbook presents the work both of established as well as the most promising young researchers, giving it a real cutting edge and features unrivalled coverage of developments in research, policy and practice in TVET. It will assist those involved in TVET at any level in making informed decisions and further advance and improve the field and to bridge the gap between vocational and academic education in the 21st century.
This Springer work is particularly relevant today as TVET faces major challenges posed by the move in many countries towards the knowledge-based economy ushered in by new information and communication technologies. Traditional occupations and apprenticeships are affected as the boundaries between manual and mental work fade. National economies are evolving rapidly as market forces take full advantage of the opportunities offered by globalization.
Work, of course, has always been a major feature in people's lives. Not only does it provide them with the means of survival—food, clothing and shelter—but it also has a major impact on their self-identity, social status, standard of living and quality of life. In this respect, the shift from the Industrial Age to the Information Age has considerable implications for education and training.
Numerous questions arise from the shift in the global labour marketplace, questions that this volume provides answers to. How do we anticipate change in the labour market? How respond to the dilemma of providing appropriate educational and training courses in a fluid world economy? Governments need reliable mechanisms to predict economic trends and the demand for manpower. Governments, enterprises and trade unions alike must focus on the methodologies of teacher training, curriculum development, the school-to-work transition, gender, and equality and equity. They will need to offer flexible pathways to training, find new ways of moulding human capital, and work out how they cope with unemployment and an ageing workforce—to name only a few.
These are just some of the topics addressed in this Handbook. It draws on international experience to identify the best answers and the best procedures to improve TVET, and provides comprehensive coverage of cutting-edge practices in research and policy as we face the vicissitudes of the twenty-first century.
Keywords
TVET
UNESCO
adult education
apprentice
curriculum
education
lifelong learning
management
organization
profession
quality
quality assurance
vocational education
vocational learning
vocational training
Bibliographic information
DOI

https://doi.org/10.1007/978-1-4020-5281-1

Copyright Information

Springer Netherlands 2009

Publisher Name

Springer, Dordrecht

eBook Packages

Humanities, Social Sciences and Law Education (R0)

Print ISBN

978-1-4020-5280-4

Online ISBN

978-1-4020-5281-1