© 2008
Earth Structures
In Transport, Water and Environmental Engineering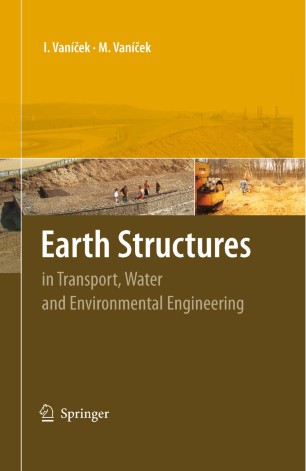 About this book
Introduction
While soil is the oldest, most commonly used building material, there is a paradox in that the subject of Earth Structures has never previously been comprehensively covered. This book describes the principles of working with soil as a construction material, including two basic ways of treating it: geosynthetics and stabilization. The book discusses the design logic and ways to control Earth Structures, which differ significantly from other construction materials. Building with Earth involves greater uncertainty and risk, which means that there is a need for better design detailing and improvement in the quality of financial calculations.
The general part of the book gives a detailed description of the principles of limit states according to Eurocode 7, after which geotechnical design is also described. Subsequent chapters concentrate on earth structures for transport, water, and environmental projects.
The chapter on Earth Structures in transport engineering presents detailed coverage of limit states of stability and deformation. Earth Structures in water engineering prioritizes the limit state of internal erosion. Earth Structures in environmental engineering describes new designs, in which part of the structure is created from non-standard materials which are usually susceptible to internal collapse, double porosity, unsaturation, etc. It also focuses on protecting the surrounding environment from contamination.
With its emphasis on principles, the logic of processes, and understanding the most important problems, the book allows all those involved with a construction (client, designer, contractor and supervisor) to build such earth structures more safely and economically.
Audience:
This book will be of interest to civil and environmental engineers; transport, hydraulic and planning engineers; geotechnical and geo-environmental engineers; scientists, designers, contractors, clients and supervisors; postgraduate students.
Keywords
Contamination
Erosion
Eurocode 7
dams
embankments, cuttings
environment
limit states
soil workability
waste deposition
Bibliographic information