© 2014
Personalization of Politics and Electoral Change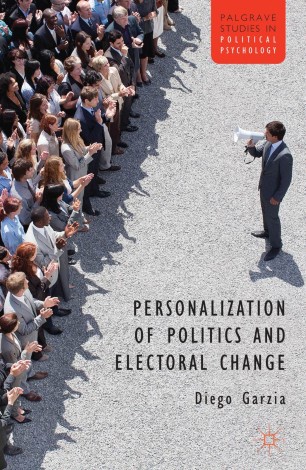 About this book
Introduction
Using an innovative framework for the study of voting behavior in parliamentary democracies, this book sheds new light on the ongoing personalization of politics. The analysis makes use of national election study data from Britain, Germany and The Netherlands and shows that party leaders can often be the difference between victory and defeat.
Keywords
behavior
election
Electoral
Germany
parliament
politics
psychology
voter
voting
voting behavior
Bibliographic information
Reviews
"This elegant and compelling comparative study greatly enhances our understanding of leader effects in parliamentary elections. Systematically analyzing the impact of leader evaluations on partisanship as well as the vote, it shows that leaders matter, and matter increasingly, for the way individuals vote and, often, the way elections turn out."
Anthony Mughan, Professor and Director of International Studies, Department of Political Science, Ohio State University, USA
"Has the personality of political leaders become more important? Dr. Garzia gives an affirmative reply. He shows that the tug of political parties and social structures has lessened, so allowing leaders more freedom in the electoral arena. As examples, he chooses three different parliamentary democracies - Britain, Germany, The Netherlands. The book seems a natural choice for students and scholars looking for an engaging work on the political psychology of leaders in a comparative elections context."
Michael S. Lewis-Beck, F. Wendell Miller Distinguished Professor of Political Science, University of Iowa, USA
'At last, leader personalization is proved to be a key component of partisanship in Western Europe and electoral behaviour research has to give political psychology the fundamental place it deserves!'
Jean Blondel, Emeritus Professor, Robert Schumann Centre for Advanced Studies, European University Institute, Italy