© 2014
China Goes West
Everything You Need to Know About Chinese Companies Going Global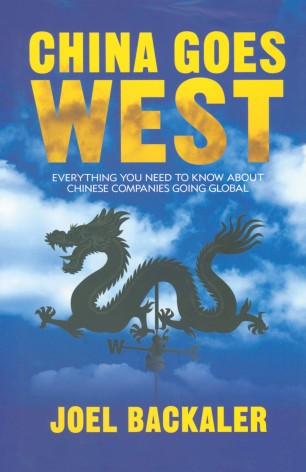 Table of contents
About this book
Introduction
Presenting an unrivalled perspective into the inner-workings of Chinese corporations and their expansion plans for international markets, this book combines executive interviews and first-hand accounts providing the sorely needed context to the rise of Chinese companies in home and overseas markets and how the West can successfully compete.
Keywords
China
international business
culture
West
business
interest
International Business
science and technology
success
Bibliographic information
Reviews
'A thorough and thoughtful examination of one of the most important trends that will help shape the future of business, technology and society. Joel has written a clear account of the globalization journey, helping readers understand the challenges, opportunities, risks and rewards of 'going global'.''
-Yang Yuanqing, Chairman and CEO, Lenovo Group
'Smart, practical and highly readable In China Goes West, Joel Backaler brings an important, accelerating global business trend into timely focus.'
- Mark Duval, President, American Chamber of Commerce in China
'Joel Backaler's book is a real eye-opener. Written in a clear, precise, and ready-to-use manner, it tells the tale of contemporary China's 'Journey to the West'.'
-Davide Cucino, President, European Union Chamber of Commerce in China
'In China Goes West, Joel Backaler separates the facts about China's global investment strategy from fiction and fear. Presented as a 'how to' account, Backaler does an exceptional job dissecting a complex topic into clear, easy-to-understand segments about the important economic, political, and cultural aspects of China's expansion. A must-read book for business leaders, MBA students, policy-makers and anyone seeking insight into the global business trend of the century.'
-Steve Burrows, Former CEO, Anheuser-Busch International Inc.
"Joel Backaler's China Goes West is a true must-read for business leaders, researchers, and anyone interested in China's rapid economic growth. Backaler details numerous real life business examples and unlocks key cultural and governmental differences in a style that is both refreshing and engaging."
-Ken Newell, President, PepsiCo Greater China (2008-2012)
'China Goes West offers a balanced, readable assessment about one of the key new developments in the global economy the dynamic, evolving story of Chinese companies' investments overseas. Joel Backaler's book offers pragmatic recommendations for companies and governments looking to engage intelligently in this process. Readers will finish this book with a clear understanding of both the challenges and opportunities this new phenomenon is bringing.'
-Kerry Brown, Executive Director, China Studies Centre, University of Sydney
'Joel Backaler's comprehensive China Goes West will be the go-to-guide for those looking to get up to speed quickly on the greatest business story of our time.'
-Julian Chang, Executive Dean, Harvard Kennedy School
"In China Goes West, Joel Backaler gives a concise and highly informative overview of Chinese companies' experiences abroad and in their home market. The book is an invaluable introduction to a critical emerging global trend and is both a useful and stimulating reference.'
-Vincent Chang, Executive Dean, Peking University HSBC Business School
'Joel Backaler's fast-paced, accessible book on China's push to invest around the world is destined to become a major resource for anyone wanting to understand and benefit from the rise of global Chinese companies. From city managers looking for investments, to CEO's looking for global partners, to average workers worried about their future, Backaler's book provides a balanced view of the newest chapter in China's rise.'
-John Pomfret, Author of Chinese Lessons: Five Classmates and the Story of the New China
'Joel Backaler brings clarity to the often impenetrable thicket of Chinese business culture. His experience and expertise allows him to offer readers interested in learning about Chinese business unique insight into the current globalization of China's economy. China Goes West is the sort of book MBA students ought to read as they begin their international studies. It is also the sort of book politicians interested in gaining practical knowledge about Chinese investments in American businesses ought to familiarize themselves with. Moreover, despite its effective and narrow focus, China Goes West is accessible to a less specialized audience and therein lies the real excellence of the book. China Goes West offers readers a more educated and sinocentric perspective than just about any other book you'll find outside of China. It is well worth the time of anyone interested in learning more about Chinese business.'
-Peter Kovas, Editor, Learn China Business