© 2004
Striking First
The Preventive War Doctrine and the Reshaping of U.S. Foreign Policy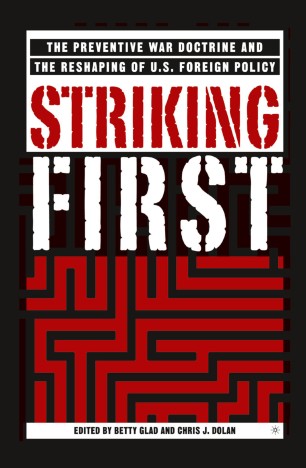 Table of contents
About this book
Introduction
How have the September 11th terrorist attacks and the subsequent U.S. led war on terrorism impacted American foreign policy at home and abroad? The consistent theme throughout this collection of essays is that September 11th was a watershed event, which sparked a redefinition and reassessment of U.S. foreign policy, governmental institutions, and the public's sense of internal and external security. The Bush Administration's endeavor to remake American foreign policy with an emphasis on a preemptive, first strike doctrine and its attempt to build an internal security apparatus are not only consequential in the war on terrorism, such efforts are challenging the very fundamentals of American political life and its perception throughout the world.
Keywords
decision-making
democracy
Europe
European Union
European Union (EU)
foreign policy
government
Institution
Policy
terrorism
war
Bibliographic information
Reviews
"Preemption and prevention are age-old instruments of statecraft that have acquired new relevance after 9/11 and the U.S. war in Iraq. Striking First provides a variety of expert perspectives on the role of preemption and prevention in the evolution of U.S. strategic doctrine, the internal political struggles that shaped that doctrine, the impact of these changes on American presidential power and legal processes, and their ramifications for the international order and the limits of American power. One cannot comprehend our rapidly changing world without understanding these international and domestic processes, and Striking First provides timely and penetrating insights on these critical subjects."
- Jack S. Levy, Rutgers University
"The alarmed contributors to this book recognize that America's strategic doctrine stands at a critical turning point with far-reaching future implications. One need not agree with all the arguments advanced by the authors to this most timely volume to recognize they tap into vital questions on preemptive war. The volume should contribute importantly to the needed public debate among everyone concerned with thre role of the United States in world affairs." - Charles F. Hermann, Texas A&M University